In a previous note published on 22 October 2020, we looked into the driving forces behind Australia's weather, and how the respective dominance of El Nino and or La Nina impacted not only our weather, but also impacted the outlook for agricultural stocks such as Nufarm (NUF.ASX), GrainCorp (GNC.ASX) and  Elders (ELD.ASX).
Tuesday's Australian Crop Report: December edition, released by the Australian Bureau of Agriculture and Resource Economics and Science (ABARES) has affirmed the optimistic production outlook the La Nina event promised.
Very favourable winter crop conditions across NSW, Victoria and South Australia have resulted in high soil moisture content and has given farmers the confidence to plant a bumper winter crop.
Following on, spring rain during the critical grain development period (when the seed fills out rather than the plant growing) has led ABARES to forecast the winter crop production for 2020 to increase by 76% to 51.5 million tonnes, which is the second highest on record.
This is +7.4% from the September report.
Importantly, the area allocated to plant winter crops increased 23%, which indicates the improved yield per hectare of winter crop which is directly derived from improved rainfall.
The winter crop increase is dominated by wheat and barley production, which have increased by 106% and 33% respectively to be the second highest on record.
Graincorp (GNC.ASX, $4.47) is a significant beneficiary, and so far in the season, has received 8.7million tonnes across all crops, an eleven-year high, and 75% above their 10-year average.
The impact of the strong winter crop has resulted in market analysts upgrading earnings forecasts for GNC.
Bell Potter have modestly upgraded their receival forecasts and carryout assumptions, driving upgrades to NPAT of 4% in FY21e, 15% in FY22e and 24% in FY23e.
Bell Potters target price (which is predicated on normalised returns) is raised to $5.05ps (prev. $4.85ps), with the change driven by higher retention of efficiency gains.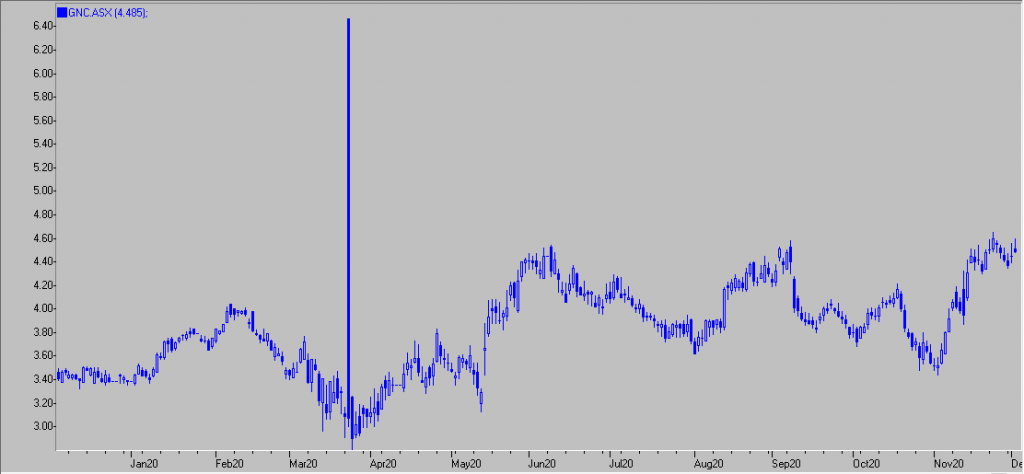 Source: Iress
Nufarm (NUF.ASX, $4.08) is another stock that will benefit from the strong rains and bumper crop. Broadleaf weeds are also prevalent post the drought and with optimism over crop harvest, the Ag chemical maker is experiencing a positive earnings swing.
According to UBS, Nufarm's strong 2H20 earnings Aust/NZ up 125% vs pcp, Asia up 51% v pcp and Nth America up 13% v pcp will continue into next year as favourable conditions across the globe continue.
UBS have upgraded their target price to $5.25 from $4.87 and have Nufarm trading at a 1yr fwd EV/EBITDA of circa 6x which is a 25% discount to global Ag peers.
UBS believes this discount is too great and is due to a deterioration in sentiment around Nufarm's European division, which the earnings trough is now past.  
Elders Ltd (ELD.ASX, $10.83) is also a net beneficiary of the bumper winter crop, according to Citi research.
The break in the drought earlier in the year, strong livestock prices and the winter crop have all helped to improve farmer sentiment and resulted in increased spending. Expectations of a solid summer crop being at least normal as existing soil moisture levels are high, which should result in increased spend for crop protection chemicals and fertilisers well into FY21. Elders real estate and financial services businesses will also benefit from increased farmland and regional property valuations and increased rural investment.
Citi forecast FY21e group sales and NPAT growth of +13% and +117% respectively.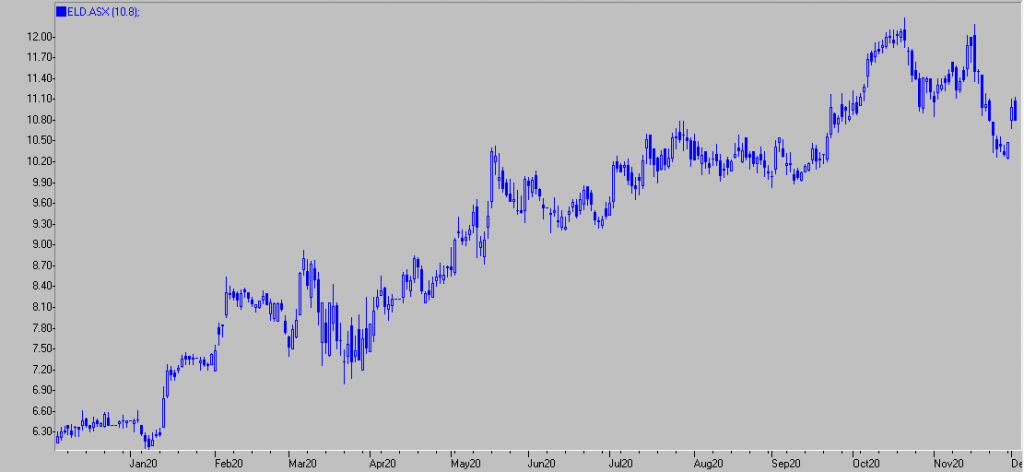 Source: Iress
Citi has a price target of $13.00 and a buy rating for Elders. Citi like Elders resilient earnings growth and sees its high return on capital as attractive, with a 9% NPAT CAGR to FY23e driven by private label backward integration strategies, strong livestock prices and excellent seasonal conditions. Citi have Elders trading at a PE of 13x which is a 37% discount to its Australian & New Zealand agricultural peer, despite the fact it has improving free cash flow, a strong balance sheet at 0.8x net debt/EBITDA in FY20, and a proven ability to maintain earnings through seasonal cycles.
Australia's strong winter crop now needs to find a home, and the recent ramifications between our major trading partner, China, does not help.
Asia buys approximately 76% of Australia's agricultural exports according to ABARES, with China buying 29%.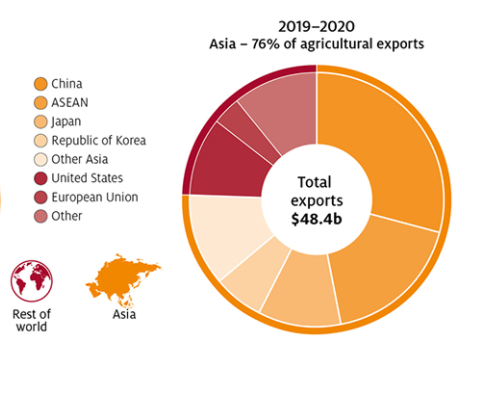 Source: ABARES
Next week, ABARES is releasing a report addressing the impact of the China trade tensions on various agricultural commodities.
In the meantime, farmers and trading houses alike will need to find new markets to sell this year's crop if China continues to play hard ball.
The barley industry has already sold more of this year's crop into Australia's domestic market, while confidence is high that Saudi Arabia may also be a significant buyer.
The reduction in barley prices to $230 per tonne, 17% below the world indicator price, hurts Australian farmers, but farm gate revenues are still up as the significant increase in yield due to the strong season has offset the price fall.
The crop report has likely reinforced most brokers thoughts on Graincorp, Nufarn and Elders, with revised earnings and increased target prices the norm. Given the discount the sector is trading on, it certainly provides food for thought as the summer crop outlook is also looking promising.
The views expressed in this article are the views of the stated author as at the date published and are subject to change based on markets and other conditions. Past performance is not a reliable indicator of future performance. Mason Stevens is only providing general advice in providing this information. You should consider this information, along with all your other investments and strategies when assessing the appropriateness of the information to your individual circumstances. Mason Stevens and its associates and their respective directors and other staff each declare that they may hold interests in securities and/or earn fees or other benefits from transactions arising as a result of information contained in this article.