Equity markets and society at large welcomed the news of positive COVID-19 vaccine results from Pfizer and their partnership with BioNTech, with successful results published from their phase 3 trials of vaccine candidate BNT162b2.
Understanding the process to develop a vaccine for COVID-19 is important, as the discovery of the virus, a derivative SARS-CoV-2, allowed companies who had completed years of study and research into the SARS epidemic a head start in the race for a vaccine to COVID-19. Otherwise, it can take up to ten years for a vaccine to go from discovery and development to final regulatory approval.
The pre-clinical phase and phases 1, 2a and 2b, are all about how this particular vaccine will work, will it be safe and what is the correct dose.
Typically, these trials do not involve a large number of people but can take up to four years to conduct due to the research required to find natural or synthetic antigens that induce an immune response in our body.
The COVID-19 pandemic triggered a huge research response from global pharmaceutical giants, governments, health authorities and universities that has been unprecedented.
The vast majority of these trials are preclinical or in phase 1 and are some years away from producing an effective vaccine.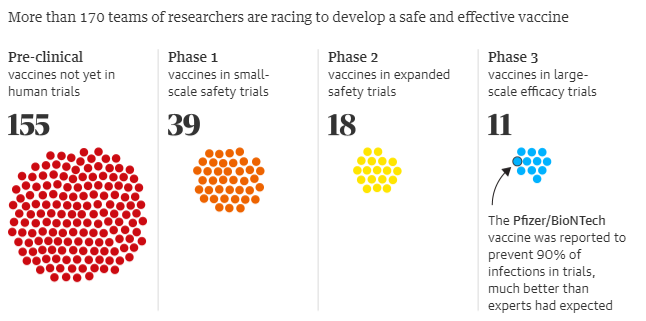 Source. World Health Organisation.
How was the Pfizer/BioNTech trial able to go to phase 3 trial so quickly?
Using the research and trial data based on genetic material mRNA used in SARS-CoV-2 trials, Pfizer/BioNTech applied and were granted permission to conduct a phase 3 trial.
In phase 3, the vaccine candidate is given to large groups of people, potentially tens of thousands, across a diverse age range and ethnic backgrounds, and on a global basis. The purpose is to:
Determine the vaccine candidate's effectiveness
Monitor its side effects
Compare it to commonly used treatments
Collect information that will allow the treatment to be used safely
Participants in the trial are usually tested to ensure they currently do not have SAR2 CoV-2 virus.
The patients will then be vaccinated with a proportion receiving the vaccine and the balance receiving a placebo. These patients will then be monitored closely for up to two years to see if they develop COVID-19 related symptoms such as fever, dry cough, breathing issue, headache or gastrointestinal distress.
The large-scale trials are designed to try capture the likelihood of serious adverse effects to patients.
To date, the AstraZeneca/Oxford University phase 3 trial was put on hold after one UK participant developed a severe and unexplained illness, while Janssen Pharmaceuticals (division of Johnson & Johnson) University of Michigan trial was also paused.
Pfizer/BioNTech's vaccine candidate BNT162b2, whose interim results were announced Monday during US hours has been lauded by industry experts as exciting and excellent news.
The trial was run by a team of "independent scientists" and Pfizer and BioNTech were blinded to which patients had received the vaccine and which patients had received the placebo. These independent scientists then reviewed the complete data and released the key interim analysis based on a pre-determined criterion.
Dr Albert Bourla, Chairman and CEO pf Pfizer said, "today is a great day for science and humanity." "We are reaching this critical milestone in our vaccine development program at a time when the world needs it most, with infection rates setting new records, hospitals nearing over capacity and economies struggling to reopen. With today's news, we are a significant step closer to providing people around the world with a much-needed breakthrough to help bring an end to this global health crisis."
The bullet points from the Pfizer announcement are listed below.
Vaccine candidate was found to be more than 90% effective in preventing COVID-19 in participants without evidence of prior SARS-CoV-2 infection in the first interim efficacy analysis
Analysis evaluated 94 confirmed cases of COVID-19 in trial participants
Study enrolled 43,538 participants, with 42% having diverse backgrounds, and no serious safety concerns have been observed; Safety and additional efficacy data continue to be collected
Submission for Emergency Use Authorization (EUA) to the U.S. Food and Drug Administration (FDA) planned for soon after the required safety milestone is achieved, which is currently expected to occur in the third week of November
Clinical trial to continue through to final analysis at 164 confirmed cases in order to collect further data and characterize the vaccine candidate's performance against other study endpoints
The importance of this announcement cannot be underestimated, but there are still plenty of hurdles to clear before the world can breathe easier.
Questions over the vaccine's longevity of protection, whether it protects those who have already had coronavirus or whether it just reduces symptoms need to be answered. There are also critical supply chain logistic issues to solve as a vaccine needs to be stored at minus 80 degrees Celsius, which will be difficult to achieve in developing nations with less rigorous supply chains, transport and logistic operations.
The good news is that 50 million doses should be available by end of 2020 and up to 1.3 billion doses available globally throughout 2021, which has certainly lifted sentiment in equity markets.
In addition, other vaccine candidates from Moderna and AstraZeneca /Oxford University, based on similar mRNA technology are only weeks away from announcing their interim findings.
Monday's announcement and hopefully future announcements from other potential vaccine candidates will be a turning point in the global fight against this pandemic that has changed the world as we know it, but hopefully through 2021 the roll out of the various vaccines, a degree of normality will return.
The views expressed in this article are the views of the stated author as at the date published and are subject to change based on markets and other conditions. Past performance is not a reliable indicator of future performance. Mason Stevens is only providing general advice in providing this information. You should consider this information, along with all your other investments and strategies when assessing the appropriateness of the information to your individual circumstances. Mason Stevens and its associates and their respective directors and other staff each declare that they may hold interests in securities and/or earn fees or other benefits from transactions arising as a result of information contained in this article.