Come senators, congressmen
Please heed the call
Don't stand in the doorway
Don't block up the hall
For he that gets hurt
Will be he who has stalled
The battle outside ragin'
Will soon shake your windows
And rattle your walls
For the times they are a-changin'
[Bob Dylan]
The words "Times they are a changing" by Bob Dylan from his 1964 song and album of the same name rings could so aptly be applied to our current time rather than an anthem for change from the early 1960's. The world, both social and economic, has gone through such a dramatic change in the past 12 months, most of it for the worse, that our elected leaders are very much in the headlights to "heed our call" in an attempt to stabilize not only the economic outlook, but how we socialise as well.
The recent Australian stock market reporting season has concluded with some 85% of the ASX 200 releasing their FY20 results, and to say there has been change is an understatement. According to a report by Bank of America Securities (BoA) FY20 earnings growth fell 40% year on year, while for FY21, earning per share had been slashed by 18% at the beginning of March and by another 2.5% by August. From a dividend perspective, the yield from the ASX 200 is still looking pretty reasonable though relative to bonds with Factset data putting the Aussie market on a 3.4% FY21 yield with the ASX 200 at 6063.
With the Australian economy formally in recession as of Wednesday, the stability of forward earnings is relatively surprising, with FY21 EPS growth at the start of August being revised from 0.8% growth to -1.9%, which suggests that earnings uncertainty is receding as companies gradually emerge and cycle out of the impacts of COVID-19 lockdowns. As much as the market is willing to recover earnings earlier, its not until FY22 that consensus earnings growth appears with 16.3% forecast according to BofA. For 2021 consensus PE of the ASX 200 is sitting at 18.8x according to Factset which is marginally lower than BoA forward forecast of nearly 20X.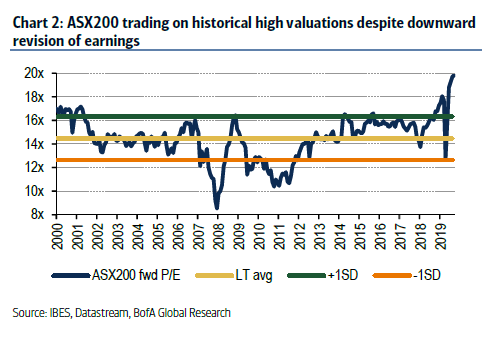 Guidance was pretty hard to come by from Australian corporates this season, so analysts have been as unguided in anytime in the last 20 years when coming to forecasting financials. That said two sectors stood out when upgrades to forecasts came through with consumer discretionary and healthcare stocks having the most meaningful upgrades to EPS, sales and dividends per share. Materials was also robust, with the iron ore miners a standout while the big banks were underwhelming.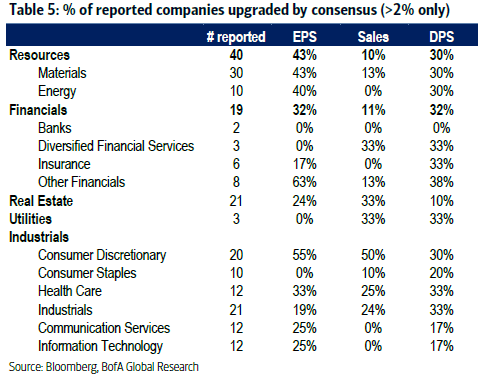 If there is one subjective attribute the market values highly it's stability and from that perspective the ASX 200 has done pretty well versus other global equity markets. With 12 month forward EPS growth only dropping by 1.9% post the earning season, the forward earning of Australian companies compares well to other major offshore markets. Despite having a relatively high PE (19.8X), it's the stability in our earnings growth that could be the catalyst to give investors confidence. That along with a reasonable forward dividend yield of 3.6% which compares very well on a global basis.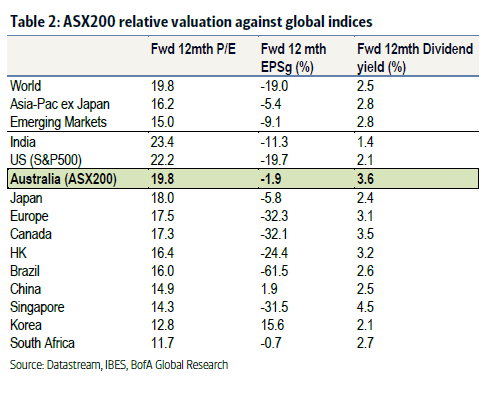 So where does that leave the relative pricing of the overall market here in Australia? If the E in earnings stabilises, the question then becomes what Price or P, am I willing to pay for this. According to BoA, they think a PE of 17.5X is appropriate even though that is still above the long-term average of 14.5X for the Australian market. With BofA predicting Earnings of 328 per share for FY21, post this reporting season (above Factset consensus of 316 per share) their target level for the ASX 200 is circa 5750.
The views expressed in this article are the views of the stated author as at the date published and are subject to change based on markets and other conditions. Past performance is not a reliable indicator of future performance. Mason Stevens is only providing general advice in providing this information. You should consider this information, along with all your other investments and strategies when assessing the appropriateness of the information to your individual circumstances. Mason Stevens and its associates and their respective directors and other staff each declare that they may hold interests in securities and/or earn fees or other benefits from transactions arising as a result of information contained in this article.