After market on Thursday US time, Amazon, Facebook, Apple and Google released their results. All four stocks beat market expectation and were up in excess of 5% in the aftermarket. In these COVID times as we all adapt to various different forms of remote working it's not surprising that these tech-centric companies continue to do well.
As the chart from Bloomberg illustrates these four stocks have gone from strength to strength following the March lows. As analysts digest this recent round of excellent numbers, focus may well turn to guidance. In this regard it was Amazon that really showed the way and should give investors comfort for the 3rd quarter 2020. In this note we will attempt to give you some colour on all four companies.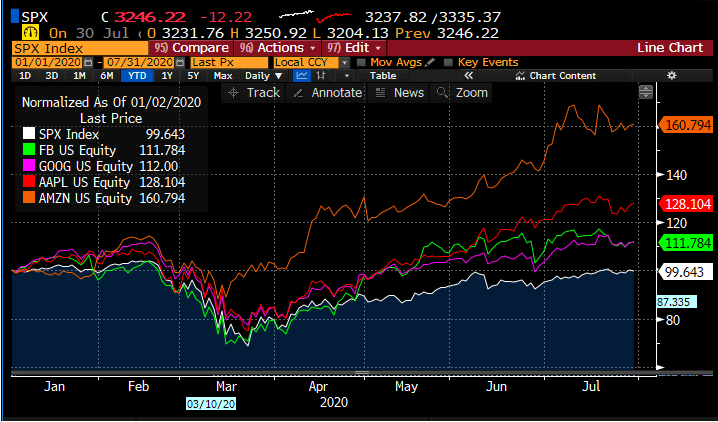 Source: Bloomberg
Amazon
Amazon posted an excellent 2nd Qtr result despite the lofty expectations already factored in by most analysts. Revenue came in at $89bln up 40% year on year vs. market expectations of $81bln to $85bln. AWS (Amazon Web Services) revenue was in line with market expectations at $10.8bln which was 29% up year on year and on an operating margin of 31.1%. AWS includes the product Zoom, Amazon's video communications network that has been rolled out to over 100,000 schools to enable students to study remotely. Amazon created 175,000 new jobs since March 2020, and expects 125,000 of those jobs to convert to full time positions in the near term. This record result included an incremental $billion charge related to COVID-19 to help keep employees safe and to deliver products in this time of high demand. Guidance for the next quarter expects revenue in the range of $87.0 bln to $93.0bln and assumes a $2bln costs related to further COVID-19 issues. This is a very solid result and should give investors' confidence.
Facebook.
Facebook reported a stronger 2nd Qtr result with revenue of $18.7bln which is an increase of 11% year on year which was better than forecasts of 5% to 7% revenue growth. Daily active users of Facebook grew 12% to over 1.79billion while the monthly stat for active users grew to 2.7billion. Facebook provided some short-term guidance and some actual numbers for July, the first month of its 3rd Qtr. July has seen ad revenue growth in line with the 2nd qtr of 10% and management expects this to continue for the remainder of quarter. This guidance was given despite:
Continued macro uncertainty including the pace of the recovery and additional economic stimulus
The surge in community engagement is expected to normalise as regions reopen
Some advertises pausing spending
Impact of regulation such as the California Consumer Privacy Act.
Apple
Apple posted quarterly revenue of $59.7billion, an increase of 11% on 3rd Qtr 2019. Earnings per share was up 18% to $2.58 while revenue split was 60% international and 40% US. Double digit growth in both products and services was responsible for the growth in revenue across all geographic segments. CFO Luca Maestri said "our June quarter performance was strong evidence of Apples ability to innovate and execute in challenging times. The record business results drove our active installed base of devices to an all time high in all of our geographic segments and all major categories."  Apple declared a cash dividend of $0.82 per share which is payable to shareholders registered by the 10th August.
Another interesting aspect was the announcement of a stock split. The four for one share split is to make Apple shares more accessible to a broader base of investors. Each shareholder on record by August 24th will receive 3 additional new shares. Trading on an adjusted basis will commence on 31st August.
Google (Alphabet)
Of the four tech stocks to report Google was probably the least spectacular, with its earnings slightly beating Wall St's expectations. Parent company Alphabet reported revenue of $31.6bln with an EPS of $10.13. That is a small dip on Q2 revenue of $31.7bln but better than the market expectations of $30.5bln. EPS expectations for the quarter was at $8.27 which was a solid beat of 22%. Google is facing headwinds with its core search and advertising revenue down 9.8% year on year while its YouTube business also suffered a slowdown in in ad revenue coming in at $3.81bln although this was better than market expectations. On the aftermarket analyst call, CFO Ruth Porat noted that she was cautiously encouraged that advertising revenue at the end of the quarter was showing signs of growth. She qualified this optimism stating "we believe it is premature to gauge the durability of recent trends given the obvious uncertainty of the global macro environment."
Google was trading up 1% in the aftermarket.
The views expressed in this article are the views of the stated author as at the date published and are subject to change based on markets and other conditions. Past performance is not a reliable indicator of future performance. Mason Stevens is only providing general advice in providing this information. You should consider this information, along with all your other investments and strategies when assessing the appropriateness of the information to your individual circumstances. Mason Stevens and its associates and their respective directors and other staff each declare that they may hold interests in securities and/or earn fees or other benefits from transactions arising as a result of information contained in this article.