While the iron ore price continues to hold over US$100 per tonne, the Australian miners of the red metal continue to outperform. Last week the iron ore price surged above US$125 a tonne for the first time since February 2014. The tailwinds of this outperformance have been numerous, and some of the key factors  in this outperformance is listed below:
Dam wall failures in Brazil
COVID-19 shutdowns in Brazil
Robust supply response from Australian miners to fill the gap in seaborn trade
Acceleration in China's steel production offsetting global falls
Clearly, the increase in steel production has been a driver of demand. China produced 93.4Mt of steel in July, or 61% of global output. This is a 9% increase year on year, which contrasts sharply with global steel production which, for the 6 months January to July, was down 5.3% to 1027Mt, while China's production rose 2.8% to 593Mt.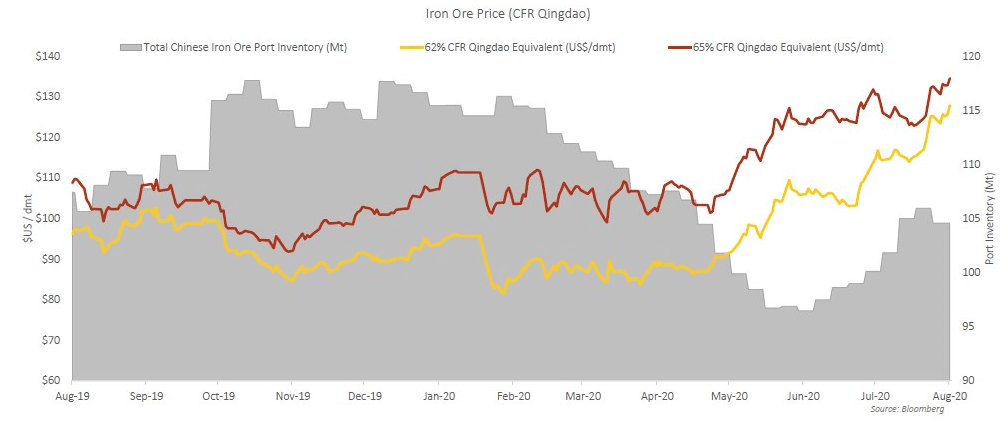 Source: Fenix Resources Presentation.
How China has managed this in the post COVID-19 world is impressive. At the height of the pandemic in February, China's PMI number fell to a record low of 35.7. Since that time, the Government through various stimulus and policy measures has seen five consecutive months of increasing factory activity culminating in July's number of 51.1.
This type of growth indicates that China has moved on from the crisis, and as the government ramps up further infrastructure investment, the demand for steel can be expected to remain strong.
This is good news for the Australian iron ore miners, who have outperformed the ASX 200 over the past 12 months, as the chart below indicates. The standout performer was no doubt Fortescue Metals (FMG.ASX), whose share price has risen from $8.20 during the COVID-induced sell-off to a record $19.56 cum dividend last Friday. Whether or not these Aussie miners can continue to outperform will very much depend on the following factors: the forward outlook for China steel production (which, based on information to date, looks robust), a ramp up of supply from Brazil, and the wild card of the current China/Australia trade tensions.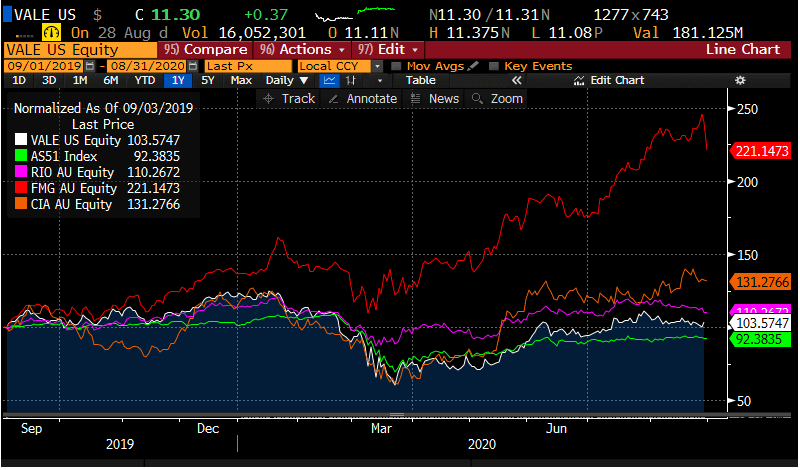 Source: Bloomberg
From a demand perspective, if the last two years of China iron ore imports are anything to go by, we can expect the demand to remain strong for August and September with some degree of softening in October through to December. On the supply side, the outlook from Brazil and Vale will be critical. COVID-19 has hit the country hard in 2020, with some 3.79 million cases and 117,756 deaths being second only to the US, which followed on from the dam wall collapses and the enforced mine closures in 2018. Combined, these two issues have reduced Brazil's iron ore output by over 100Mt per annum.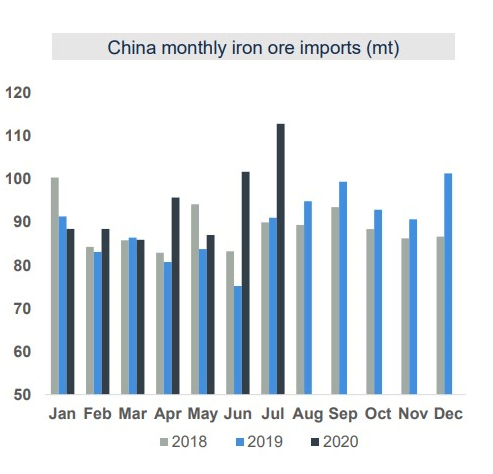 Source: China National Bureau of Statistics
The ramp up in political tensions between Australia and China in recent months has had  no impact on iron ore markets as yet. Who holds the whip hand in these negotiations is relatively balanced, which is a good thing from Australia's perspective. China needs to keep its people employed and it does so by building large scale projects. Even if Brazil were to ramp up production and recoup more than their existing losses in the past two years, Australia is still a far bigger and more important trading partner in terms of iron ore from China's perspective. Australia mined 852Mt by June 30, more than double that of Brazil.
The concern from Australia's perspective is probably not from a tit for tat trading stoush, involving barley, beef or wine exports. The concern may also not fall on the banning of the sale of Lions Dairy Farmers and Pura brands to China's Mengniu by Treasurer Frydenberg, or the dumping of corporate sponsorship of local rugby league team by Huawei.
The key risk is an internal one within China itself.
As long as the Chinese Government can deliver rising living standards, one can argue that the people are content to live under a totalitarian regime. As the debt burden grows in China, the return from debt-fueled stimulus growth is shrinking, making it more and more difficult to build cities with no one in them and roads to nowhere. As the trade war with the US is expected to impact GDP growth for the next five years, this could be tough for the Chinese economy. The following forward-looking chart from the RBA paints a relatively gloomy outlook for China.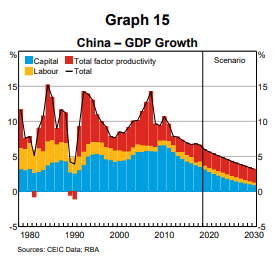 Source: RBA
Whether it is realistic for China's GDP growth to fall to circa 3% by 2030 is a moot point. Let's hope that is not the case, but in the meantime, the writing is on the wall – Australia needs to diversify its economy away from a over-reliance of China. Iron ore will always be in demand, until the world invents how to build things without steel. Even with the development of the huge Simandau project in Africa, the world will still rely on Australia as a reliable supplier of this key commodity. From that perspective, the Australian miners of the red metal should always remain on investors watch lists.
The views expressed in this article are the views of the stated author as at the date published and are subject to change based on markets and other conditions. Past performance is not a reliable indicator of future performance. Mason Stevens is only providing general advice in providing this information. You should consider this information, along with all your other investments and strategies when assessing the appropriateness of the information to your individual circumstances. Mason Stevens and its associates and their respective directors and other staff each declare that they may hold interests in securities and/or earn fees or other benefits from transactions arising as a result of information contained in this article.