The last few weeks have probably been the best weeks in CEO Andy Penn's time at Telstra, with the market warmly accepting his strategic plan for the next three years.
Since succeeding David Thodey on the 1st of May 2015, Telstra's share price has struggled, falling from a high of $6.53 in August 2015, to a low of $2.62 by June 2019.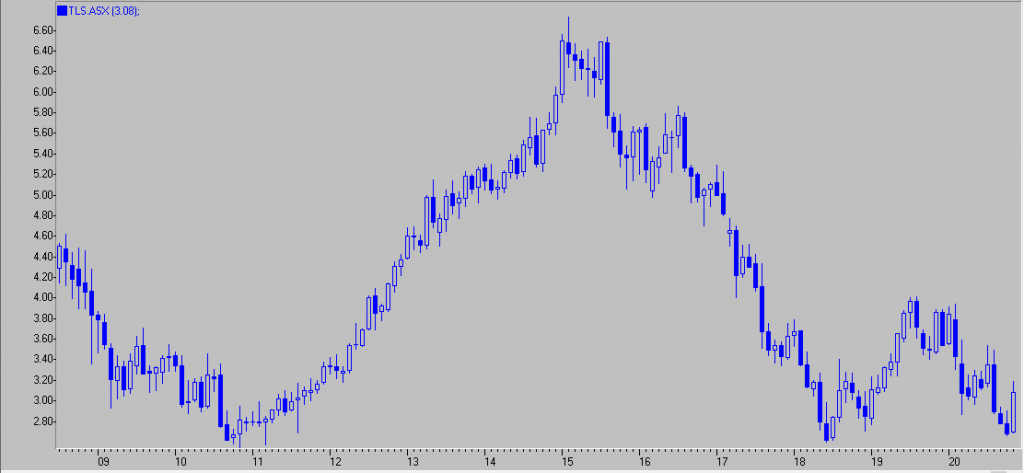 Source: Iress
Telstra's underperformance had been contributed to three main causes:
Reduction in dividends
Lower asset and infrastructure valuations
Competition in the mobile industry
Telstra's recent investor day put the market on notice that management has a definite plan to arrest the share-price decline and put the company on a path of increasing EBITDA over the next two years.
This path to growth is predicated on restructuring Telstra into three business units to enable the company to unlock value from their vast mobile tower network. The three separate legal entities are:
InfraCo Fixed – will own and operate Telstra's passive or physical infrastructure assets: the ducts, fibre, data centres, subsea cables and exchanges.
InfraCo Towers – will own and operate Telstra's passive or physical mobile tower assets, which Telstra will look to monetise over time.
ServeCo – focus on how Telstra creates innovative products and services, support customers and deliver the best possible customer experience.
The digital economy is here, and Telstra's restructure is all about leveraging the benefits of the digital economy and ensure the new upwards momentum continues over the next five years.
Price Waterhouse Coopers (PWC) expects that as businesses embrace digital tools, the economic benefits to Australia could be up to $90billion and create 250,000 new jobs, which Telstra will be a partial beneficiary of.
What does this mean for Telstra's earnings?
Telstra has hitched its future on its best in class 5G mobile network.
Having had five years of declining EBITDA, management is now confident of its competitive advantage with Telstra's 5G network, which is expected to cover 50% of Australia's population by the end of 2020 and 75% of the population by June 2021.
Higher revenues and better margins on Mobile is the key to hitting FY2021 guidance, which was reiterated as A$6.5billion to A$7.0 billion. This momentum is expected to continue into FY2023, where Telstra's management has targeted underlying EBITDA of A$7.5bln to A$8.5bln. This implies growth of between 4-14% per annum over the next two years.
As the two major suppliers of mobile phones, Apple and Samsung, now have 5G capability, growth in mobile revenues is expected to grow rapidly as retail customers and small businesses continue to embrace the digital economy, especially post COVID-19.
SMB Services, Media and Gaming are just three of the new products and categories that are expected to grow strongly over the next five years as average revenue per unit increases, and customer behaviour evolves with the launch of new devices.
Telstra management is expecting to commence the sale process to sell InfraCo Towers in calendar year 2021.
Importantly, the strategic assets including radio Access Network equipment, the spectrum holdings and the electronics that light up the fibre networks, will all be retained in the ServeCo retail entity.
According to JPMorgan, the 5G TowerCo assets "could be worth A$3.7bln to A$3.9bln assuming a 19x /EBITDA. At that price the sale could be 6% value accretive."
Potential entry into energy services to households
In a surprise move, Telstra indicated it intends to apply for a license to sell energy to customers.
Telstra is one of Australia's largest energy consumers and has been heavily involved by underwriting renewable energy generation via Power Purchase Agreements. This provides firm power capacity during times of extreme demand or grid instability and neutralising the overall emissions from the group's operations.
Analysts are positive
The investor day proved to be just the elixir the many long-suffering shareholders were after, with a raft of analysts (post the briefing) upgrading their target prices.
JPMorgan has increased their target price for June 21 from $3.40 to $3.65 while UBS has reaffirmed their buy rating with a target price of $3.70.
At current market price of $3.09, Telstra is trading on an implied dividend yield of 5.2% with 16 cents per share factored in by both banks for 2021. With interest rates at almost zero, and given the low base from which Telstra is emerging, the appeal of Telstra to retail investors may well gain momentum as the new year unfolds.
The views expressed in this article are the views of the stated author as at the date published and are subject to change based on markets and other conditions. Past performance is not a reliable indicator of future performance. Mason Stevens is only providing general advice in providing this information. You should consider this information, along with all your other investments and strategies when assessing the appropriateness of the information to your individual circumstances. Mason Stevens and its associates and their respective directors and other staff each declare that they may hold interests in securities and/or earn fees or other benefits from transactions arising as a result of information contained in this article.