Blown (blown blown blown) 'Round by the wind
Thrown (thrown thrown thrown)
Down in a spin

Jigsaw (1975)
ASX reporting season update
In this note, we take a step back and look at how the Australian reporting season is panning out. This is an important time, as the financial impact of COVID-19 on company earnings in that critical period from early March through to end of June period will be on display for all to see. Is the emperor really wearing no clothes, or has the management of Australia's listed companies managed to navigate the mire of these unprecedented times to produce a result that will at least meet market expectations? To put this discussion in perspective, have a look at the chart below which is a 1 year chart of the ASX 200 index.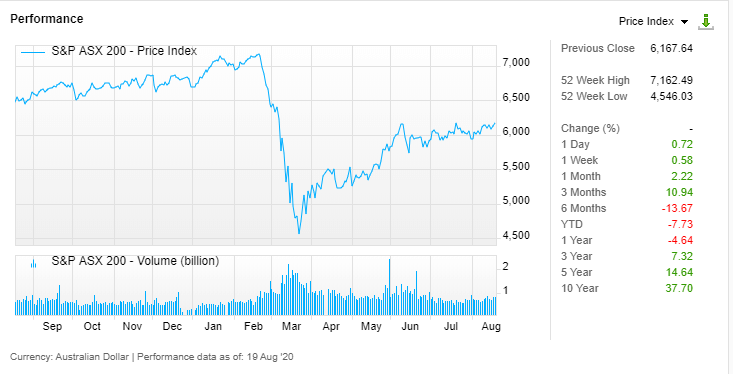 Source: Factset
One year ago, the index was at 6467, only 300 points higher or 4.6% away from where the market is at the time of writing. If you had been trapped on a deserted island for the last 12 months and missed the pandemic, you would have probably not even blinked at this level. Of course, what this chart does not show is the massive Australian government stimulus, record unemployment and significant social and workplace structural changes that the Australian economy has experienced over the past 6 months, and what the next 12 months has in store.
To summarise what sectors in the Aussie market have outperformed and which ones have suffered, this chart from Factset makes it pretty clear.
Source: Factset
Looking at the IT sector (which has done phenomenally well), Afterpay has been the star performer, gaining index inclusion which has forced many of the index huggers and value funds to buy it. Afterpay reports later in the month on 28th, with another IT star Appen, reporting on the 27th. Of the IT stocks that have reported include Wisetech, which has certainly delivered a better than expected result. Profit of $160mln with a NPAT of $52.76 was well above market expectations.
The Healthcare sector has been a rock-solid place to have your money over the past 12 months. Clearly CSL being the largest listed company has been the bellwether. It reported 2 days ago and did not disappoint. With net profit over $2.1bln and importantly guidance for 2021 given as $2.1bln to $2.265bln and being the go too producer in Australia of the Astrazeneca/Oxford Uni COVID vaccine, one of the most advanced candidates for a vaccine, CSL will continue to be in the limelight. Resmed (RMD) reported in early August and has rallied hard since while Cochlear (COH) was slightly better than forecast and resulted in a number of broker price target increases, admittedly from lower levels.
The material sector (or Mining for a more apt term), has benefited from two key tailwinds: a strong iron ore price that is over US$110 per tonne, and a record gold price that recently breached the US$2000 an ounce. The large cap resource stocks have become the reliable dividend payers, a mantle once held by the big four bank stock. BHP, Rio Tinto and Newcrest's results have not disappointed and remain core portfolio holds. With inflation and GDP growth uncertain, gold stocks should retain their hedge against the unknown status, whilst iron ore should remain strong. China steel demand remains robust and supply constraints in Brazil continue. FMG is reporting on Monday next week and could surprise the market with a larger than expected dividend.
Looking at sectors that have underperformed, the financials have been under a lot of scrutiny. Widely held by insto and retail investors, the reporting of household names like AMP, QBE, Suncorp and the big four banks was anticipated with a fair degree of trepidation. Many retail investors have hung on during the lows of March hoping that the record Govt stimulus, relative housing market stability and jobs numbers would result in reasonable numbers. AMP's result surprised with the excess capital from the sale of AMP Life sale culminating in a capital return of $544mln, via a 10c fully franked special dividend and a $200mln on market buyback.
QBE has seen its share price halve from its highs in late February, but since the March lows it rallied 50%. Its result on the 13th was inline but the surprise was the 4c dividend. Lower net claims, lower commission expenses, higher offshore earnings and a lower tax rate all contributed to better capital position, which pleased the market.
The most anticipated result in the financials was CBA. Trading on a higher multiple than the other three banks, this result would set the tone for the other three and given they collectively still account for some 25% of the ASX 200, the sentiment would flow through to the overall market. The result was a miss, despite paying a 98c div which was 49.99% of APRA's 50% payout ratio guideline. The big loan impairment provisions offset the sale of Colonial. The headwinds facing the sector meant that no real guidance could be given, so despite a valiant effort by management the outlook has not left the market encouraged. With quarterly's coming from both ANZ and NAB post CBA's result, the outlook the sector as a whole remains cloudy at best, despite the fact that all have very solid CET1 ratios.
The REIT sector has really suffered under this new post COVID world. Work from Home and a shift to online shopping has hit the bricks and mortar real-estate assets hard. The reality hit home in the past week with Centuria Office, Charter Hall Long Wale, GPT, Charter Hall Retail, Lend Lease, Dexus, and Vicinity group all reporting results that were hardly inspiring. The outlook for the office and retail is tough and most management teams would not be drawn on guidance for 2021. Property devaluations, rent wavers or losses from uncollected rent, falling occupancy rates etc all paint a less than rosy picture for the sector.
The worst performing sector over the past 12 months is the energy sector. In the past 5 months we have seen a oil price collapse into negative territory and debt concerns and impairment charges the norm across the industry. In Australia, Oil Search, Woodside, Santos and Origin have all delivered much of the bad news via their quarterly production reports so much of the bad new has been priced in. Origin and Santos reported yesterday with Origins profit falling to $83million down from $1.21billion last year while Santos delivered a net loss of US$289millio compared to a US 388million profit a year ago. Santos took an impairment of US$756million against its Gladstone LNG plant. These results followed on from Woodsides US$4.07billion first half loss that included impairments of US$3.92bllion across the group.
Final thoughts
So halfway through the reporting season, the overall feeling is one of cautious optimism. Governments are doing their best to keep people employed and keeping the coronavirus spread under some semblance of control, while the global hunt for a vaccine is being monitored daily. No doubt a vaccine will trigger renewed investor optimism, that should see the tourism, travel & leisure and bricks and mortar retail stocks recover somewhat and a shift back into growth stocks despite some eye watering PE's.
The views expressed in this article are the views of the stated author as at the date published and are subject to change based on markets and other conditions. Past performance is not a reliable indicator of future performance. Mason Stevens is only providing general advice in providing this information. You should consider this information, along with all your other investments and strategies when assessing the appropriateness of the information to your individual circumstances. Mason Stevens and its associates and their respective directors and other staff each declare that they may hold interests in securities and/or earn fees or other benefits from transactions arising as a result of information contained in this article.