In yesterday's note we highlighted the difficulties faced by the global oil sector over the past eight months.
In today's note we are going to take a closer look at the large cap portion of the Australian oil and gas sector and look at what analysts of the sector are saying about the next 12 months.
The ASX Energy (XEJ.ASX) sector hit 12-month highs on January 10th– when it closed at 12,095 – two months prior to the global pandemic. Since that time, it posted a low of 5,644 (down 53.3%) on 27th March, coinciding with the COVID-19 induced flash crash of late March. The sector has lagged the broader market over the past 7 months and has only managed to regain 18.9% to a current level of 6,711.
Hardly inspiring, and with the Organization of the Petroleum Exporting Countries (OPEC) ready to pump more oil at the first sign of any economic recovery, the outlook for Aussie oil and gas stocks could be argued to be rather subdued.
The cure for low commodity prices like low oil prices is low commodity prices. Marginal production gets culled by the low price and production falls. OPEC and Russia have done their best to try and kill off the US shale oil industry, which has not only undercut them on price, but has taken US market share to the point that the US became a net exporter of energy rather than an importer.
There is no doubt that the strategy has certainly put much of the US shale oil industry on the precipice of insolvency, along with the global falls in GDP caused by COVID-19, but it remains to be seen whether or not, the US returns to becoming a net importer again.
The outlook for the Aussie oil and gas producers is very much linked to the oil price. Most Australian hydrocarbon producers are gas producers, but the liquified natural gas price is based on oil prices.
Therefore, the lower the oil price, the lower the gas price.
Australian oil producers took their medicine during the past seven months with many taking non-cash impairments, cutting dividends and shoring up their balance sheets by raising capital.
There is no easy way to present the massive impact the COVID-induced recession had on the listed energy stocks – and investors and share prices have reflected the brutal reality of the situation. There seems little doubt amongst fund managers that there is value in the sector at current prices, but that view is predicated on economic recovery and a rise in energy prices.
With that in mind it is interesting to see the views of the analysts that cover the Australian oil & gas sector, which is summarised in the following table.
| | | | |
| --- | --- | --- | --- |
| Australian Oil & Gas Companies | Current Share Price ($) | Bloomberg 12 Month Target Price | Differential |
| | | | |
| Woodside | 18.56 | 25.57 | 38% |
| Santos | 5.09 | 6.64 | 30% |
| Oil Search | 2.86 | 3.91 | 37% |
| Beach petroleum | 1.39 | 1.88 | 35% |
| | | | |
Source: Bloomberg, Iress
Having a look at individual companies will give readers some perspective of where the six companies listed above are currently sitting.
Oil Search
From their full year 2020 results presentation:
Production up 4% to 14.66mmboe
Production costs down 175 to US$10.38BOequiv.
Non-cash impairment charge $260m
Average realised oil price US$35.91 v US$65.26 in 2019
US$700m equity capital raise to adding to strong liquidity position
Conservative approach taken on the development of the important Alaskan asset.
Analysts 12-month target price for Oil Search according to Bloomberg is $3.91per share
Santos Ltd
Santos delivered a relatively strong operational performance for the full year 2020.
Despite a non-cash impairment charge of over US$700m the company still delivered an underlying profit of US$212m, and a dividend of US2.1cents per share fully franked.
Net loss including impairment of US$289m.
Record production in the first half of circa 38.5 mmboe and a stronger second half expected and a break-even oil price of less than US$25 per barrel put Santos in a strong position to benefit from any uplift in oil prices.
Average 12-month forecast target price from Bloomberg $6.64 per share.
Woodside
Woodside has epitomised the demise of large cap energy stocks with the share price languishing only marginally above the March lows. The November 11th strategy day planned by the company will be very interesting, as the linking of the Scarborough development with the assumed $3bn purchase by Woodside of Chevrons Nth West Shelf by end of 2021 may be enlightened. The financial result included a massive US$3.92bn non-cash impairment charge on the carrying value of certain assets.
Gearing is modest at 20%, record first half production of 50.1mboe and a break-even cash cost of US$32boe enabled Woodside to pay a 26 cent per share dividend.
Average 12 month forecast target price from Bloomberg $25.57 a share.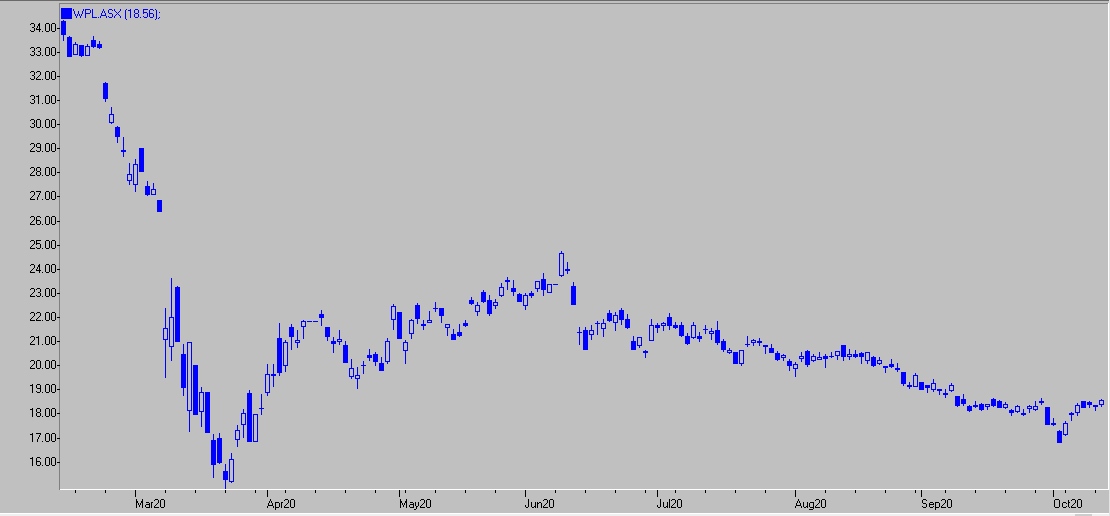 Source: Iress
Beach Energy
At the lower end of the market cap spectrum at circa $3.1bn, Beach distinguished itself by being one of the few energy companies that did include a material impairment charge during the COVID induced market rout.
FY20 production was within 1% of guidance at 26.7mmboe, (down 9% on 2019) underlying EBITDA of $1.108bn and a NPAT of $461m.
With 55% of their revenue derived from gas, and the domestic east coast gas market the focus (with 46% revenues and oil production contributing 45%), Beach has a natural advantage with the short fall in supply in east coast gas markets. Even with anticipated development like Santos' Narrabri Gas project, the domestic demand for gas is expected to remain robust. With 97% of gas sales sold under contract for FY21 and FY22, the company's forecasts Brent Oil price of US 41.25/bbl should result in $2.1bln cumulative free cash flow over the next five years.
Average 12-month forecast target price from Bloomberg $1.88 per share.
With the sector as a whole taking much of the pain in the last six months, the outlook will be very much swing on the oil price.
With large scale capex from the majors on hold, final investment decisions (FID), by both Woodside on its Scarborough and Pluto2 projects, and Santos for its Barossa project being delayed, companies are in cost mitigation mode until broad economic improvement is clear. Shareholders could take comfort in the approach taken by management teams which should lead to a more optimistic 2021.
The views expressed in this article are the views of the stated author as at the date published and are subject to change based on markets and other conditions. Past performance is not a reliable indicator of future performance. Mason Stevens is only providing general advice in providing this information. You should consider this information, along with all your other investments and strategies when assessing the appropriateness of the information to your individual circumstances. Mason Stevens and its associates and their respective directors and other staff each declare that they may hold interests in securities and/or earn fees or other benefits from transactions arising as a result of information contained in this article.