Over the course of 2020, coal is certainly one of the most unloved sectors on the ASX, with a raft of headwinds impacting the sector including:
COVID-19 and the direct impact on global GDP and fall in energy usage
Softer prices, thermal coal prices driving a contraction in seaborn trade
Competition from LNG, as gas prices also fell as an oversupply developed
Build-up of inventories at global coal miners will take time to work through
Political intervention as China seeks to support local producers versus exporters like Australia
Australia's coal producers are dominated by diversified miners BHP (16%) & Glencore (14.2%) with Yancoal being the largest of the pure coal plays with 8.3% share, followed by another diversified miner Anglo with 8.3%.
The performance of the three largest pure play coal stocks, Yancoal (YAL), Whitehaven (WHC) and New Hope Coal (NHC) over the past three years has been a very painful journey for shareholders.
Whitehaven has fallen 82.5% between July 2018 to September 2020, New Hope Coal is down 70.5% between March 2019 and September 2020 while Yancoal is down 65% from January 2018 to September 2020. How much more downside risk is there to Australian listed coal companies, given that the demand side impacts of COVID-19 are expected to abate over the coming six months resulting in a pick-up in global economic activity and a increase in demand and prices for thermal coal?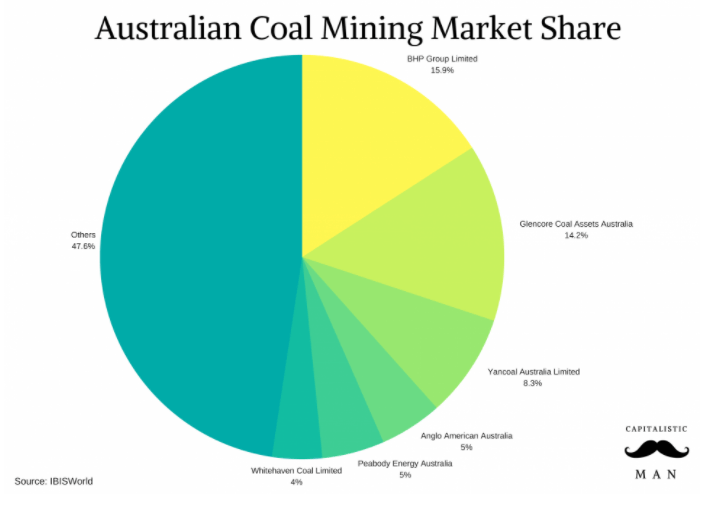 China dominates world consumption with 59% of all coal used, consumed in the Middle Kingdom. Up until the early 2000's, China was largely self-sufficient, but as economic development expanded over the past 18 years, China quickly became the largest importer by 2016. However, imported coal still only accounted for 10% of China's coal use. India has also grown, overtaking the US as the world's second-largest coal user, as their domestic supply struggled to keep up with internal demand. The impact of COVID-19 lockdowns had a precipitous impact on thermal coal prices. The Newcastle 6000kcal spot price fell from over $US100 tonne to less than US$60 tonne from mid-2019 to April 2020, where it is expected to remain for the remainder of 2020. The build up of inventories is expected to take some time to work through despite signs of demand increasing. In addition, the Chinese Government intervention to restrict coal imports at the bequest of domestic producers as the seaborn price is attractive relative to domestic prices is also an important facture impacting demand for Australian coal.
The green shoots for the Australian coal industry over the next five years is certainly South East and South Asia (excluding India). In 2019, this region imported 153million tonnes of thermal coal. The largest importers in South East Asia being Vietnam, Malaysia, the Philippines and Thailand while Pakistan and Bangladesh are the largest importers in South Asia. Individually, no country is large enough to move the needle, but collectively they are expected to play a major role in the seaborn trade.
Demand for these two regions is expected to grow to 178 million tonnes by 2022 with economic and population growth driving electricity demand. Vietnam, for example, is predicting coal-fired electricity will account for 49% of the nation's electricity generation capacity by 2025.
Thermal coal prices are expected to rise in 2021 as the global economy recovers post COVID. Assisting the supply-demand equation is the role of Indonesia, as the lower calorific value of their coal, along with high costs of production significantly impacting their ability to compete against the more efficient seaborn exporters like Australia. Indonesia's exports are expected to fall from 610million tonnes in 2019 to 420million tonnes in 2020. Other exporting nations like Russia have suffered as lower prices and logistics with their eastern rail network affecting supply. South Africa also has issues with COVID related lockdowns impacting domestic demand and supply through their largest port at Richards Bay.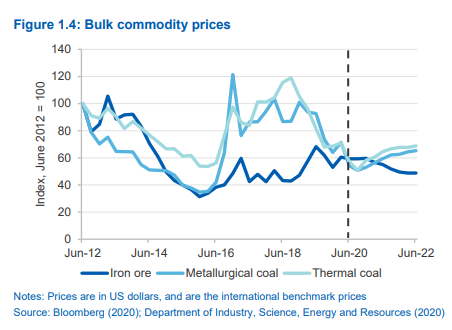 With this improving outlook for thermal coal in a post COVID environment, with prices expected to rise to US$65/tonne by 2022, and the supply equation by some of the seaborn players still under pressure, the outlook for the pure play Australian coal stocks is certainly worth while monitoring. The following chart of Whitehaven coal illustrates just how far some of these companies have fallen. If we do get as many economists suggests, a reasonable recovery in global GDP growth in 2021/2022, then the possibility exists for some sort of recovery in the thermal coal stocks in Australia over the next 12 months.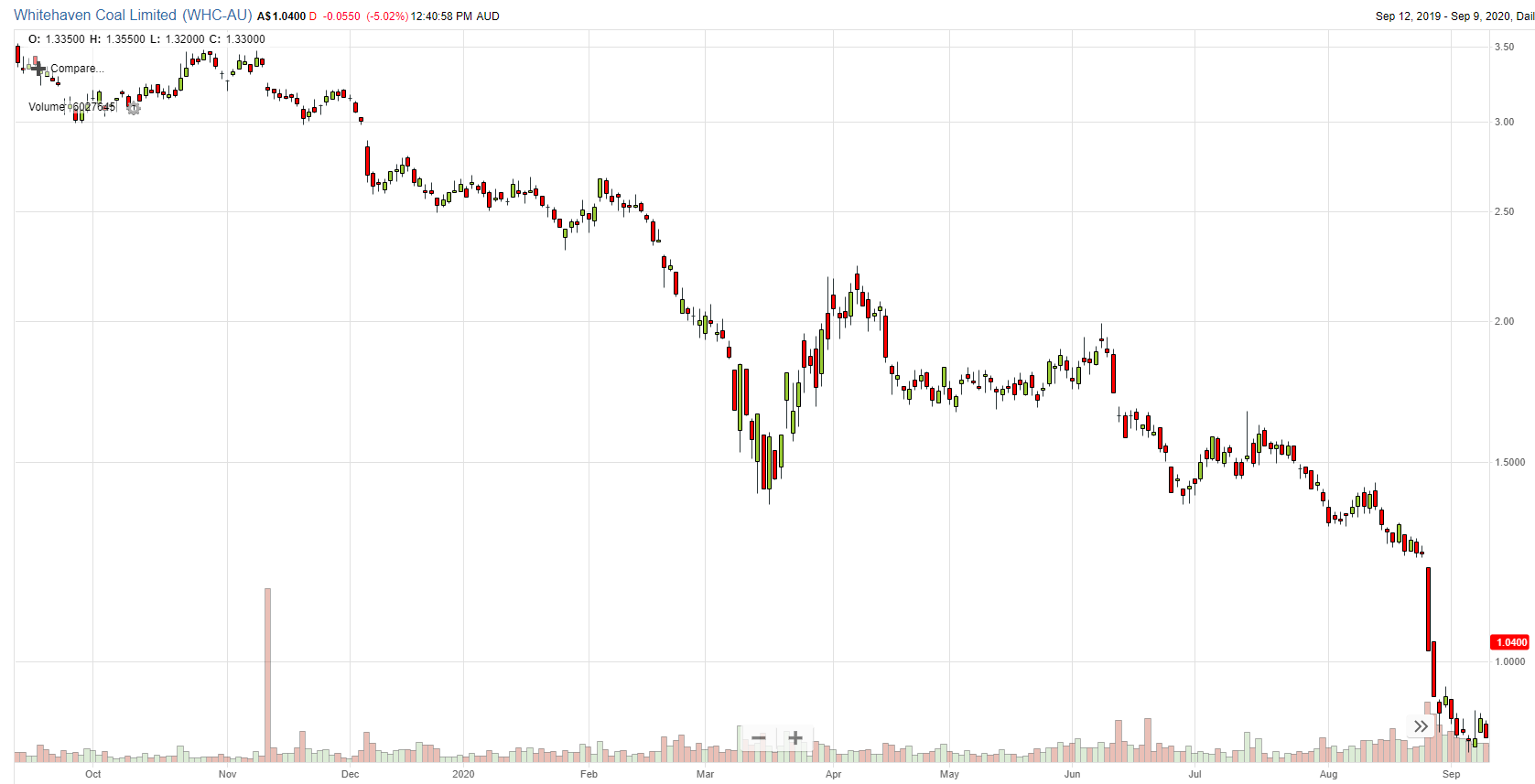 Source FactSet.
Other stocks and ETF's to consider
| | |
| --- | --- |
| Security | Ticker |
| Yanzhou Coal Mining | 1171:HK |
| Arch Resources | ARCH:NYSE |
| New Hope Coal | NHC:ASX |
| BHP Limited | BHP:ASX |
| Yancoal Limited | YAL:ASX |
| Coronado Global Resources | CRN:ASX |
| VanEck Vectors Coal ETF | KOL:NYSE |
The views expressed in this article are the views of the stated author as at the date published and are subject to change based on markets and other conditions. Past performance is not a reliable indicator of future performance. Mason Stevens is only providing general advice in providing this information. You should consider this information, along with all your other investments and strategies when assessing the appropriateness of the information to your individual circumstances. Mason Stevens and its associates and their respective directors and other staff each declare that they may hold interests in securities and/or earn fees or other benefits from transactions arising as a result of information contained in this article.