Better than feared with High PE stocks driving the market.
In this note, we take a helicopter view of the first 3 weeks of the reporting season here in Australia. Of the 174 ASX 200 stocks due to report, 110 have reported. In the ASX 100 index, 63 have reported out of 86, as they delivered their numbers in writing. Overall, the price reactions to results have been positive, with companies that beat market expectations rewarded, while those companies that missed the mark were not punished as much as one would have expected. Importantly, guidance (where it is provided) has turned less negative, so it may still be down, but not as much.
Earnings per share growth for FY20 has declined 22.3% from 2019, while looking forward, Factset has consensus EPS growth at 7.4% for 2021 which is down 1.7% prior to the start of the reporting season. Consensus EPS growth for 2021 is driven by Financials (+13.3%) albeit from a low base, Resources (+3.6%) and Industrials (+2.2%). Importantly, Dividends are expected to grow by 6.7% in 2021 after collapsing 38% in FY20. We all know how much Australian investors love their dividends.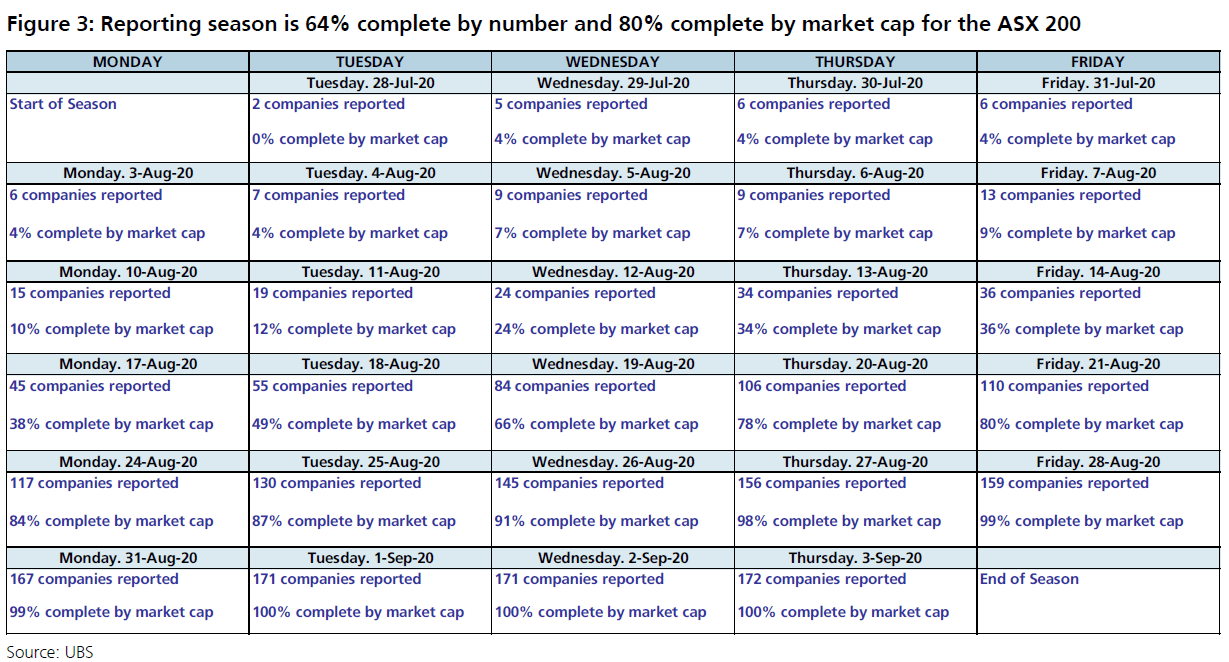 The consensus revisions to 2021 earnings has led to a small revision, down 1.7% to 7.4% from 9.1% prior. Industrials and Financials make up most of this adjustment (Industrial -7.1% & Financials -2.6%) while stronger iron ore and copper prices have seen resources improve by 5.5%.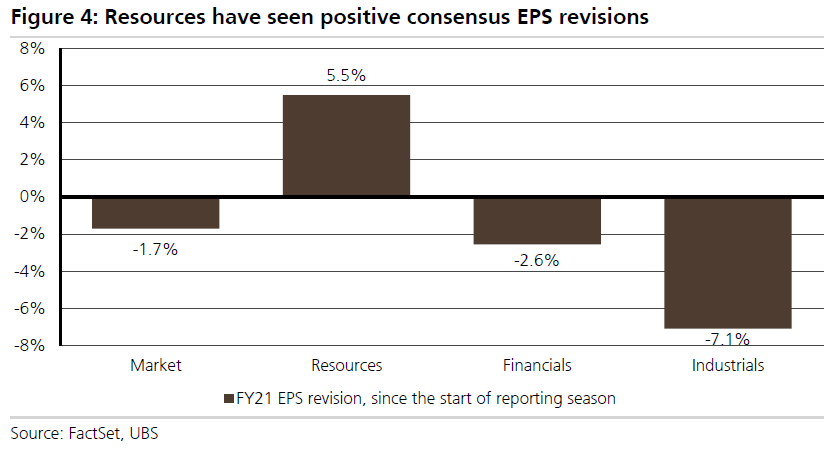 The positive from investors has been the improved share price reactions with the average price move on the day of a company's result being up 0.4%. Clearly, the market is still looking through the tough 2020 numbers impacted by COVID-19 and out to a more optimistic outlook for 2021. Of interest is the reaction to guidance. Positive guidance and negative guidance are almost equal, with stocks moving plus or minus 5%, while those companies that do not provide guidance at all for 2021 have averaged a 2% positive gain.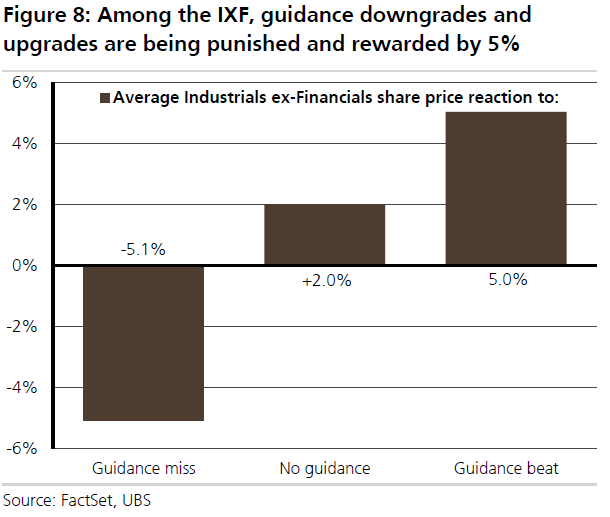 Of the ASX 100 companies that have had beaten guidance for FY20, the following stood out and were well-received by the market. AMP, Charter Hall, QBE, JB Hi-Fi, Evolution ASX, and REA Group.
On the other side of the ledger, stocks that missed earning and disappointed the market include a2Milk, Vicinity Centres, Bendigo bank, Origin Energy and Northern Star.
From a guidance perspective, of the ASX 100 companies, 14% upgraded guidance while 18% downgraded. Some of the notable companies that upgraded guidance were Treasury Wine, Dominos Pizza, CSL and Coca-Cola. I will note on Treasury Wines that the guidance upgrade occurred prior to the China investigation to wine dumping.
ASX 100 companies that downgraded guidance include AGL, Seel, Telstra and ResMed.
Looking at some individual sectors, in the resources space ex gold the results have been good with the likes of BHP, Rio & Iluka hitting market expectations. However, there was the lower payout ratio on dividends, which left the market wanting more with South 32 being the exception.
On retailers, well some like JB Hi-Fi, Kogan, Adairs, Coles & Wesfarmers have had excellent results on the back of the new norm of  work from home and record government stimulus. The fact that most of these stocks failed to give guidance for 2021 suggests the sales boosts could well be a one-off.
On REITs, well, it is a tale of the "haves" and the "have-nots". COVID-19 has had a marginal impact on the industrial and office sectors with no major impairments and rent collections tracking at 90%. In the retail space, it's not so rosy, with asset re-valuations of -10% to -15% and rent collections tracking at circa 50%.
Finally, the improvement in equity prices has been heavily impacted by the continued rally in the high PE stocks. The bottom 20% quartile PE stocks have remained at average levels since 2000, while the 80th percentile has risen some 75% from an average PE of 20 to a PE of 35.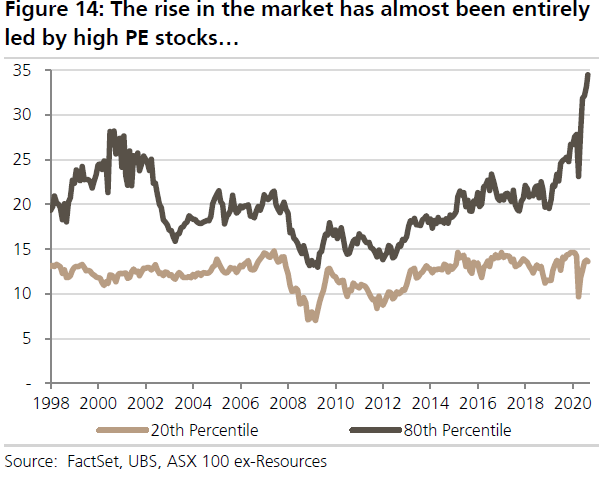 The views expressed in this article are the views of the stated author as at the date published and are subject to change based on markets and other conditions. Past performance is not a reliable indicator of future performance. Mason Stevens is only providing general advice in providing this information. You should consider this information, along with all your other investments and strategies when assessing the appropriateness of the information to your individual circumstances. Mason Stevens and its associates and their respective directors and other staff each declare that they may hold interests in securities and/or earn fees or other benefits from transactions arising as a result of information contained in this article.