The largest Free Trade Agreement in the world
On 15th November, Australia signed its commitment to a free trade deal almost a decade in the making: The Regional Comprehensive Economic Partnership (RCEP).
15 nations in total signed the RCEP, which include ASEAN (Association of Southeast Asian Nations) nations of Brunei, Cambodia, Indonesia, Laos, Malaysia, Myanmar, Philippines, Singapore, Thailand & Vietnam, along with those countries who are free trade agreement partners, Australia, China, Japan, New Zealand and Republic of Korea.
The Australian Governments Department of Foreign Affairs and Trade said the below:
"[The trade agreement] is a modern and comprehensive free trade agreement covering trade in goods, trade in services, investment, economic and technical cooperation, and creates new rules for electronic commerce, intellectual property, government procurement, competition, and small and medium sized enterprises."
India was unable to sign this current agreement, but in recognition of India's growing importance in trade within the region, all countries agreed to leave the Agreement open for India's accession later.
The size and importance of this agreement makes it one of the largest FTAs in the world, covering:
15 countries
2.2 billion people (30% of global population)
Combined GDP of US$26.2 trillion (30% of global GDP)
To add to the sense of potential scale, these numbers reflect the deal without India's participation.
In 2019, Australia shipped $272.4billion worth of product; up 42.5% from 2015 and up 7.3% from 2018. The importance of this RCEP Agreement is revealed when one considers that over 70% of our export trades are with member nations of this historic agreement.
Below is a list illustrating Australia's total goods and services two-way trade with other Regional Comprehensive Economic Partnership countries in 2019.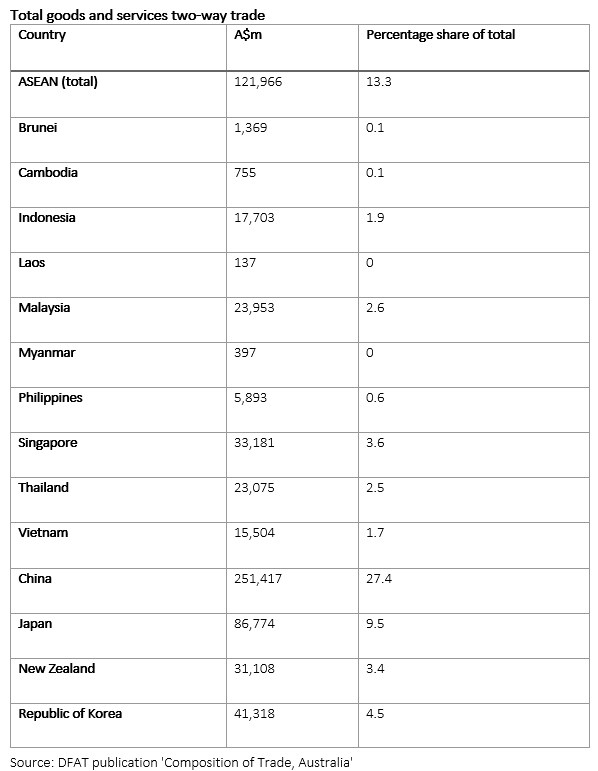 One of the key benefits of this agreement has come in light of the impact of COVID-19 on all nations: all countries are looking to commit to supporting economic recovery. This agreement hopes to support job creation and importantly strengthening regional supply chains, through having open, inclusive, rule-based trade and investment arrangements.
The detail on how this objective will be implemented and adhered to is found in the 20 chapters of text and includes areas and disciplines that were not previously covered in existing free trade agreements between ASEAN and non-ASEAN countries, such as chapters on intellectual property, electronic commerce, competition, small & medium enterprises (SMEs) economic and technical cooperation and government procurement.
Australia's Minister for Trade, Simon Birmingham, has stated that our farmers/rural industries and businesses are set to benefit from this deal – 1 in 5 Australian jobs are reliant on trade, which will be beneficiaries of increased export opportunities and strengthened supply chains amongst the region.
Will all existing Australian jobs be safe from the potential for ASEAN imports to undercut products produced at home for domestic consumption?
The reality is, some job losses will occur, especially in the food and manufacturing sector, but this may be more than offset by professional services and education, where Australian businesses have carved out a robust business.
Asia is the fastest growing region in the world, as the burgeoning middle class across each participating country becomes potential customers for Australian products and services. This deal will solidify Australia's exporters as a key participant in this market and make it easier to operate throughout our region. This deal will also assist Australia's services business with financial services, education, health, engineering and other professional services all set to benefit.
When finalised, the key benefits for Australia will be:
A new single set of rules and procedures for accessing preferential tariffs in any of the 15 RCEP markets
New scope for trade in services throughout the region including across telecommunications, professional and financial services.
Improved mechanisms for tackling non-tariff barriers including in areas such as customs procedures, quarantine and technical standards.
Greater investment certainty for businesses.
Rules on e-commerce to make it easier for businesses to trade online.
A common set of rules on intellectual property.
Agreed rules of origin that will increase the competitiveness of Australian inputs into regional production chains.
Source: Trademinister.gov.au
The agreement is expected to be ratified when at least 6 ASEAN member States and 3 non-ASEAN signatories deposit their instrument of ratification with the Agreements Depositary which is expected in 2021.
The detractors to this agreement are also gaining airplay. For starters, the agreement is quite vague on its mechanism for solving disputes. The detailed rules for dealing with issues arising from trade, are seemingly insufficient according to Heng Wang, trade specialist at Herbert Smith Freehills China International Business and Economic Law Centre at University of NSW.
Closing remarks

Given most countries have the right to take genuine trade disputes to the World Trade Organisation for resolution, Australia has not filed a single issue despite the WTO having arguably the most legalistic dispute settlement mechanism under any trade agreement. If we are not using the WTO now given the current state of play between Australia and China, there is little chance of using the RCEP Agreement should disputes arise.
We can only hope that China and Australia can benefit from signing this agreement as it shows both countries are committed to trading within the rules and will engage with each other as equals. With trade being used by China as a political tool to target Australia, the message will not be lost on the other member nations, and should China treat other nations with similar behaviour, business confidence will be undermined, and the agreement will be of little consequence.
Importantly the door is wide open for India to join the agreement as all nations recognise the growing importance of India as a trading partner within the region. Given the level of media reports on conflict with some existing nations who are also party to this agreement, hopefully the reality of this agreement will pave the way for the resumption of a more co-operative and mutually beneficial approach to trade, and the current level of conflict will gradually dissolve.
The views expressed in this article are the views of the stated author as at the date published and are subject to change based on markets and other conditions. Past performance is not a reliable indicator of future performance. Mason Stevens is only providing general advice in providing this information. You should consider this information, along with all your other investments and strategies when assessing the appropriateness of the information to your individual circumstances. Mason Stevens and its associates and their respective directors and other staff each declare that they may hold interests in securities and/or earn fees or other benefits from transactions arising as a result of information contained in this article.