Investors globally have increasingly been looking at ESG criteria as a screen for investment opportunities.
This is the first note of a 2-part series that looks at Governance and its lack of application in the past and why in future, corporate Australia will be increasingly focused on the implementation of good governance. The adoption of Governance, and how improvements are implemented, will have profound effects on how businesses operate going forward.
In the past, ESG criteria used to come at a cost or trade-off from the investor's perspective, as the criteria when applied, limited the pool of investable companies or limited the investor's profits from those companies.
Companies that did not fit an investor's Environmental, Social and Governance filters sometimes had the knack of performing quite well in terms of share price, which was profitable from an investor's perspective.
In this note we take a closer look at Governance and why the lessons of the past are taking time to sink in, as well as why it is important to understand that good corporate governance may not necessarily deliver increased profits, but it may certainly help you in avoiding catastrophic losses.
Historical lack of Governance
Over the past 20 years, failures in corporate governance have cost shareholders and employees alike, very dearly.
To refresh your memories here are just some of the high-profile failures that have occurred in the last twenty years in Australia;
| | | |
| --- | --- | --- |
| Company | Industry | Governance breach |
| One.Tel | Telecommunications | |
| HIH | Insurance | |
| AMP | Financial Services | |
| NAB, WBC, CBA & ANZ | Banking & Financial Services | Royal Commission |
| ASIC & APRA | Regulators | Royal Commission |
| Crown Resorts LTD | Casinos & Gambling | |
| RIO | Mining | Director fraud, archaeological vandalism, bribery |
The biggest losers in the majority of these cases were, of course, the shareholders.
The importance of corporate governance (or in these cases, the lack of it) resulted in the erosion of significant shareholder wealth.
Take for example the governance issues that were bought to light in the recent Royal Commission into financial services, chaired by Kenneth Hayne AC.
Without recommending wholesale changes to banking or financial services, the FSRC has certainly put both the boards of our largest listed companies and corporate regulators on notice, that change is required and should be championed to reimagine the future of corporate governance in Australia.
From a shareholder's perspective, there is certainly a change in mood, as ESG criteria have become increasingly important, resulting in boards and management teams applying more time and vigilance to ensure all shareholders' interests are respected.
Modern corporate governance has features that, if applied diligently and without fear by the boards of directors, should result in all shareholders, employees and customers being dealt with fairly.
Known as the Unitary Board, corporate boards should contain separate internal committees for Auditing, Nomination, Risk and Remuneration, along with Independent Non-Executive Directors (INEDs) and Executive Directors.
The ability of both independent non-executive directors and executive directors to work effectively together and execute their roles, in the interest of all parties, has been at the crux of many corporate governance issues.
INEDs should have no conflicts of interest that would affect their judgement in monitoring management's activities and driving financial performance that does not result in costs on the broader community.
The downside of INEDs is that, in some circumstances, they may lack the in-depth knowledge of company operations, which could result in a lack of confidence to execute their duty. This lack of perceived control could be exploited by executive directors.
The inability of INEDs to challenge executive directors was one of the issues revealed by the Australian Prudential Regulation Authority's (APRA) review of the Commonwealth Bank in 2018.
The pursuit of profit
The Financial Services Royal Commission (FSRC) revealed that in many cases, the pursuit of profit over the interests of customers and above compliance of the law, was a primary motivator. While it is important to consider returns to shareholders, it cannot be the only consideration.
The failures of corporate governance have struck retail investors hard.
One has to look no further than the demise of Australia's once largest and oldest fund manager AMP. Over the past twenty years, AMP has had seven chief executives and six chairpersons and an array of governance issues.
A former senior executive quoted in a Sydney Morning herald article said "AMP is a company that kills careers…. It's become a reputational graveyard."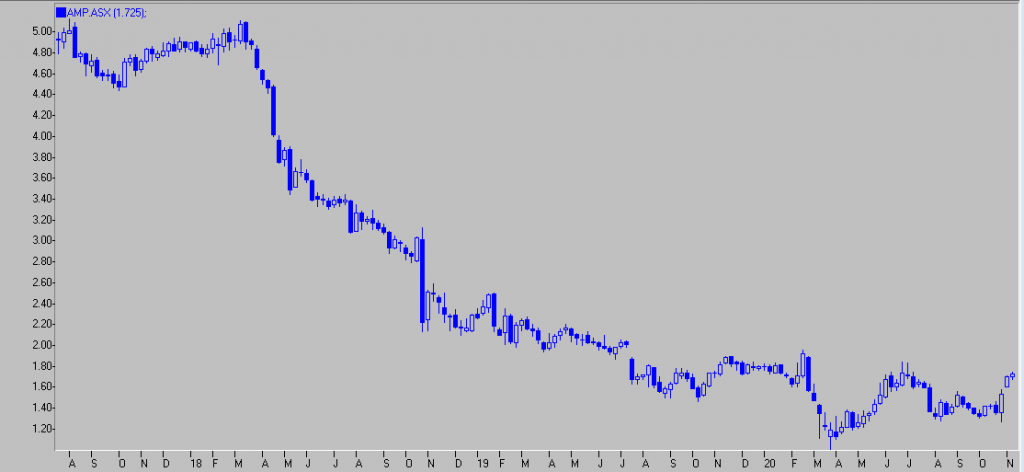 Source Iress
The recent revelations by Crown Resorts Ltd (CWN.ASX) has highlighted multiple issues of potential governance failures. AUSTRAC's recent investigations include many areas of possible breaches, including noncompliance in relation to customer due diligence, and adopting, maintaining and complying with an anti-money laundering/counter-terrorism financing program.
Financial and gambling stocks are not the only sectors that are under serious scrutiny.
Over the past 5 years, Rio Tinto (RIO.ASX) has also been questioned on the governance of its board with a former director charged by the UK Serious Fraud Office (SFO) over a deal he was involved in while as a director of a large UK bank. Three executives were also embroiled in a bribery scandal in securing a vast mining concession in Guinea, while more recently, the company has been putting its mining interests and the pursuit of production over preserving archaeological treasures through the destruction at Juukan Gorge.
The raft of high-profile governance issues facing corporate Australia, has certainly put corporate governance reform firmly on the national agenda. The responsibility of drafting and reviewing existing practices should fall to a well-funded and balanced regulatory regime (APRA, Australian Securities & Investments Commission and the Australian Competition & Consumer Commission) with the respective panels comprised of community and consumer advocates, as well as experienced industry and legal practitioners.
Without reform, we can only expect shareholders and the wider community in general, to bear the cost of the next governance failure. It's just a matter of time.
The views expressed in this article are the views of the stated author as at the date published and are subject to change based on markets and other conditions. Past performance is not a reliable indicator of future performance. Mason Stevens is only providing general advice in providing this information. You should consider this information, along with all your other investments and strategies when assessing the appropriateness of the information to your individual circumstances. Mason Stevens and its associates and their respective directors and other staff each declare that they may hold interests in securities and/or earn fees or other benefits from transactions arising as a result of information contained in this article.