If there was one industry sector that epitomises the negative impacts of the coronavirus, it's energy, with oil being the hardest hit within the sector.
The macroeconomic impact of COVID-19 has been a "once in a century" event according to JPMorgan, infecting 37.3million people and causing 1.07million deaths. To slow the spread of infections, governments around the globe imposed restrictions on most social and economic activities. These partial or complete lockdowns have impacted over 4.2billion people representing almost 60% of global GDP.
The lockdowns first hit China, with their economy representing 16% of global GDP and 24% of energy demand in 2019.
Japan and South Korea followed with European economies and India next, representing one third of global energy demand, with the US being the slowest to respond, as states across the US finally instigated lockdowns representing some 53% of global energy consumption in 2019.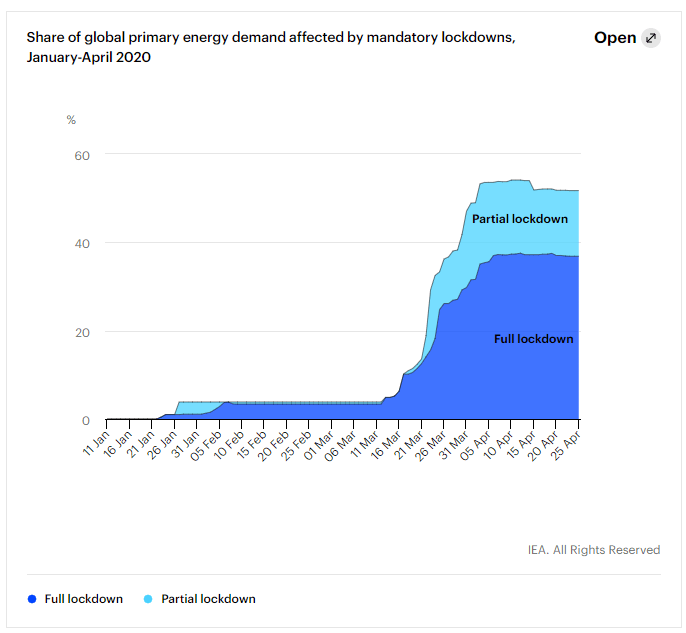 Source: International Energy Agency
Further restrictions on gatherings, the ongoing work-from-home phenomena and global travel restrictions continue to make conventional analysis of demand for oil extremely difficult.
Madrid, Spain's largest city is likely to impose travel restrictions as its infection rate spikes to 0.7% v 0.3% for the rest of Spain. Coronavirus cases make up 50% of patients in ICU in Paris, while in Germany new cases have risen by 50% to over 4,000 a day, while its death rate continues to climb.
With the onset of the northern hemisphere winter, the virulence of COVID-19 will enter unknown territory. Analysts describe the state of the oil market last month as one that was in a delicate state of re-balancing.
Today, analysts' confidence has not improved with the situation described as "even more fragile."
Global impact on oil
The impact on oil demand has been dramatic.
Countries with strict lockdowns in place have seen road transport decline between 50% and 75% off 2019 levels, while aviation had an even more elevated decline with a fall of over 90% off 2019 levels.
The resulting decline in mobility has seen global oil demand plummet by a record 10.8mb/day on a year on year basis.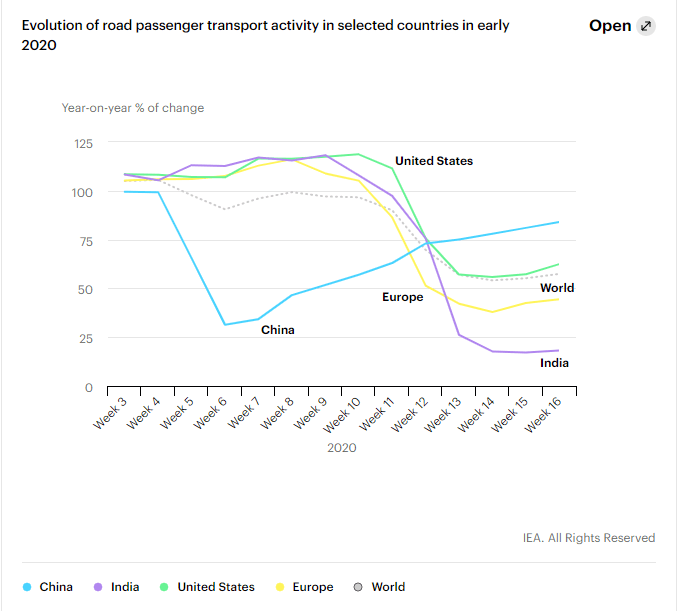 Source: International Energy Agency
The supply side of the equation in oil has seen a number of different issues impacting supply, which has been the most influencing factor in regards to the price volatility of oil.
Global oil supply in August rose slightly to 91.7mb/d but is still down 9.3mb/d year on year.
US production has been impacted not only by COVID-19 lockdowns, but also hurricanes Laura and now Delta, which have necessitated a shutdown of production in the Gulf of Mexico.
The offshore workers strike in Norway has now been resolved, while in Libya, the state of force majeure that existed at its largest field has been lifted, which should enable production levels outside of the Organization of the Petroleum Exporting Countries (OPEC) to recover.
OPEC's recently released "2020 World Oil Outlook to 2045" presents a base case scenario where crude demand would grow from 90.7mb/d in 2020 to 109.3mb/d in 2040 (peak oil).
OPEC expects global demand for oil to increase over the next 5 years from 90.7mb/d to 103.7mb/d by 2025, driven largely by countries that are outside the OECD, primarily China & India (there are currently 37 member nations of the OECD).
One of the clear drivers that oil markets are looking out for are the potential for agreement between the Democrats and Republicans on further stimulus measures.
Any bipartisan agreement will increase demand, which should have an accretive impact on oil prices.
Investors should be aware that the OPEC nations have self-imposed reduced production quotas, which at present are being agreed to be maintained into 2021. Should any meaningful recovery in demand become evident, these curtailments in production may potentially be reduced back to normalised levels of production, and potentially a rise in inventories.
At present, the global demand equation for the next 6 months is what is concerning the oil market most.
Despite positive signs out of China on their economic recovery, the outlook and sentiment are not so rosy for the rest of the world.
As the European summer comes to a close and the holiday season ends, the number of new coronavirus cases is rising, resulting in localised series of lockdowns being imposed to mitigate a potential second wave.
Outlook for oil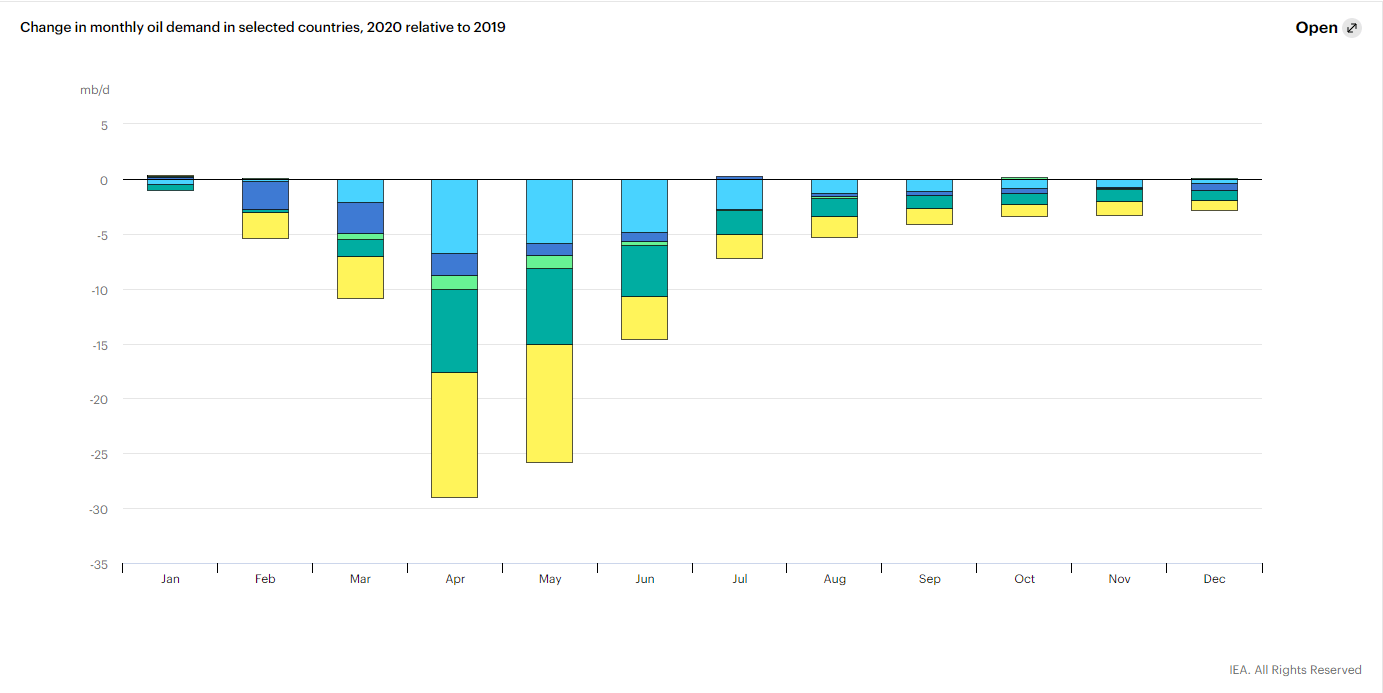 Source: International Energy Agency
Not surprisingly, all this nervous uncertainty has parlayed into the energy sector being the worst performer of 2020 to date.
Oil markets may be off their lows, but there still remains a heightened level of concern over the economic recovery and the reopening of economies.
Companies with larger market caps may look attractive on valuation and yield, but given the overall level of insolvency risk has not declined for much of the sector, it is still difficult to have much conviction they will see positive returns from here.
The recent weakness in the USD has been positive for the sector, but until the market looks away from the narrow group of "growth stocks" that has led the market recovery, the market looks to continue its rather circumspect view on oil and the sector overall until after the US elections.

Source: S&P Global
The views expressed in this article are the views of the stated author as at the date published and are subject to change based on markets and other conditions. Past performance is not a reliable indicator of future performance. Mason Stevens is only providing general advice in providing this information. You should consider this information, along with all your other investments and strategies when assessing the appropriateness of the information to your individual circumstances. Mason Stevens and its associates and their respective directors and other staff each declare that they may hold interests in securities and/or earn fees or other benefits from transactions arising as a result of information contained in this article.