"I been laid off from work.
My rent is due.
My kids all need
Brand new shoes."

Simply Red (1985)
The importance of yesterday's CBA earnings result cannot be overstated.
CBA currently holds a number of titles which highlight its importance to the Australian economy.
Largest company solely listed on the ASX with a market cap of circa $132.2billion
Largest bank in the country
Largest home loan book in Australia with circa 24.9% of all mortgages with CBA
This result is very much a window into how every day Australians are going post COVID-19.
With the four months of March to June being a unprecedented in their impact on Australian society as a whole, analysts will be looking for indicators on how work and social restrictions are affecting Australian borrowers' ability to repay our mortgages and what effect this has on the ability of CBA to pay dividends to the many retail investors and super funds who have come to rely on bank dividends for income support.
I might start with the dividend, as it was the most hotly debated topic over the past 6 weeks, with guidance from APRA expecting ADI's (Authorised Deposit Taking Institution) to limit dividend payout ratios to less than 50% for this year.
The pressure on CBA management to not only respect and consider their 900,000 shareholders' expectation of a dividend and comply with their corporate regulator must have been immense. By not ruling a line through dividends completely like has happened in New Zealand, APRA left the door open for CBA to pay a dividend of $0.98c per share which represents a payout ratio of 49.95% of statutory earnings. Cutting it so fine shows how important the CBA management takes appeasing their shareholders and could be the standard to which the other 3 major banks have to aspire to.
Another positive of this result was the balance sheet strength.
With a CET1 ratio at 11.6%, well above APRA's unquestionably strong 10.5% level, CBA has a $5billion buffer over and above the regulator's requirement, even after putting aside $2.5 billion to cover bad and doubtful debts, which is more than double the provision in 2019. In addition, CBA's deposit funding ratio has strengthened in the past 4 months. The deposit funding ratio in 2018 was 68% and in 2019 it was 69%, but in 2020 this had increased to 74%.
This is one of the core strengths of CBA versus the other three major banks and the regionals. The cheapest form of funding a bank can have is from its deposit base. The larger the deposit base the greater the Net Interest Margin (NIM)should be, assuming responsible lending practises are invoked. According to Moody's, CBA's are clear of the pack commanding some 24.4% of the Australian domestic retail deposit market with Westpac second on 20.4%, NAB 16.2% and ANZ 13.6%.
Where CBA's result starts getting a bit cloudy is when we delve into the home loan and business loan deferrals.
With some 135,000 loans (8% of the total number of home loans) being deferred, and the business and employment outlook for the Australian economy looking as bad in any time in the last 30 years, how will this impact CBA profit outlook over the next 12 months?
Home loans in deferral accounted for $48billion and each loan being on average $355,000, with 33% of these accounts having 20% equity or less with the 20% of these account holders being employed in high risk occupations including retail, airlines, hospitality food and travel industries. For this group of loans to suffer permanent losses we would probably need to see a 10% plus correction in housing prices in the short term, but even then, mortgage insurance would cover a reasonable percentage before CBA would incur any losses. Considering the level of provisioning, and the fact it takes circa 12 months before a mortgagee-in-possession sale actually eventuates, it may be some 18 months before the current economic situation plays out on the profitability of CBA.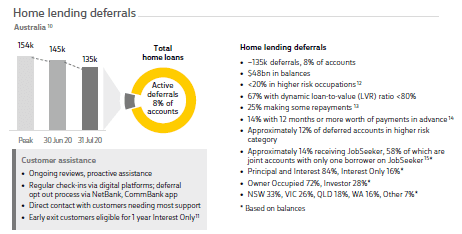 Source: CBA
In the meantime, yesterday's price action of the big four banks indicates a bit of switching going on. CBA had been the best performing bank over the past 12 months, prior to today's result and given some analysts had factored in no dividends for the other three banks, this result by CBA is been taken as a positive for the sector as a whole.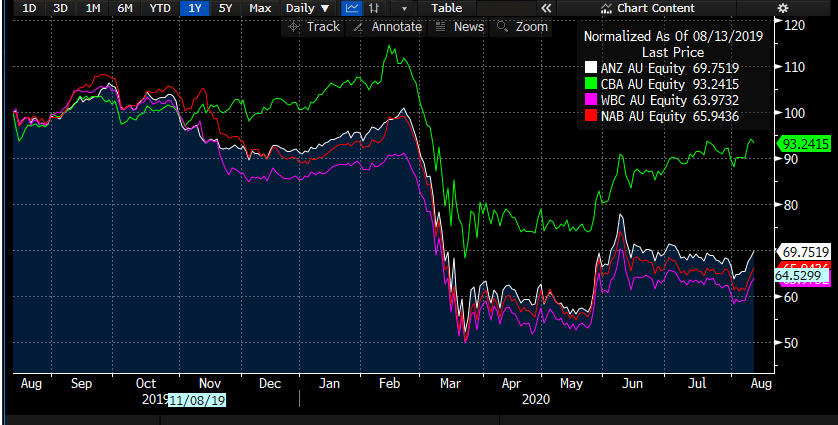 Source: Bloomberg
As mentioned earlier, how COVID-19 impacts the job market will be the key indicator for the sector as a whole, but looking at this result, CBA has delivered a result that has walked that knife edge of complying with the regulator while doing its utmost to look after their shareholders.
The views expressed in this article are the views of the stated author as at the date published and are subject to change based on markets and other conditions. Past performance is not a reliable indicator of future performance. Mason Stevens is only providing general advice in providing this information. You should consider this information, along with all your other investments and strategies when assessing the appropriateness of the information to your individual circumstances. Mason Stevens and its associates and their respective directors and other staff each declare that they may hold interests in securities and/or earn fees or other benefits from transactions arising as a result of information contained in this article.