Next year's global equity performance may well be shaped on what happens in the next 2 months.
The approval, distribution and efficacy of two or more COVID-19 vaccines with emergency medical approval, as well as the speed of the incoming US President in striking a bi-partisan deal to produce a US stimulus will be two of the primary ordinances of global equity's performance.
The US President Elect's ability to get a bespoke stimulus through congress may well improve if the Democrats take the 2 senate seats up for grabs in the US state of Georgia, which would give the casting vote to the Vice President Elect, Kamala Harris.
With interest rates anchored at near zero % or below, and central banks willing to do "whatever it takes" to avoid a crisis (according to former European Central Bank President Mario Draghi) there are certainly tail winds that are giving investors reason to be optimistic for 2021.
That said there are also some significant unknowns.
The northern hemisphere is going through a serious 2nd wave of infections, during their winter, which is leading to significant shortage of hospital beds and rolling lockdowns.
The most recent being California's 3-week lockdown closing restaurants, pubs clubs and schools. The impact of further restrictions will surely have an impact on US GDP and global GDP as a consequence.
Global GDP fell to circa -3.7% in 2020 according to Credit Suisse and Thomson Reuters DataStream, and assuming no significantly negative unknowns hit, has 2021 forecast GDP growth of 4.1%.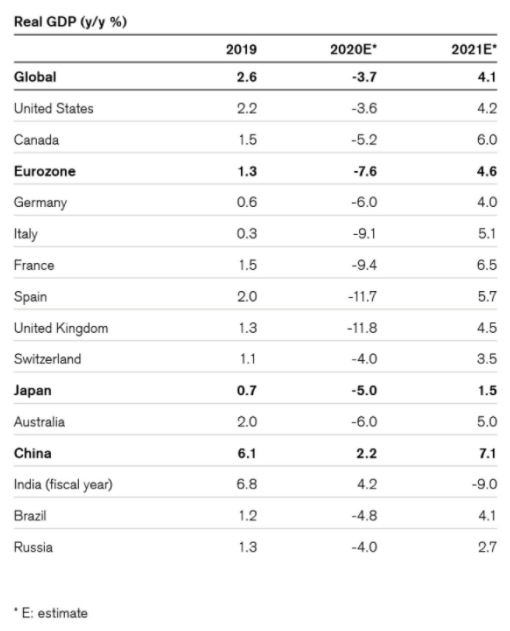 Source: Thomson Reuters DataStream & Credit Suisse
How trade develops throughout 2021 will be closely watched.
The relationship between China and the US is critical and President Elect Biden, may well be the catalyst that pours oil on the waters post Trump.
Any conciliation between these two superpowers will be taken as a positive by the market and neither nation wishes to cut off their nose despite their face.
Across the Atlantic, the Corona Virus infection rates and the looming Brexit event appear large.
31st December is the drop-dead date with Britain being formally outside of the EU on the 1st of January 2021.
If no deal is reached then Britain and Europe could see various new tariffs, border checks, customs duties and quotas on goods as the frictionless trading era between the two partners comes to an end.
This will inhibit GDP growth for the UK and have a negative impact on Europe too. With British PM Boris Johnson and leader of the EU Ursula von der Leyen set to meet in the coming days, their discussions will be the last genuine chance for deal to be reached and approved by EU leaders and a handful of Parliaments prior to December 31st.
Assuming US/China/Brexit and the vaccine all come good, how does this place equities for 2021?
Caveats aside, the big plus for equities is the reopening of economies combining with low interest rates and huge fiscal and monetary stimulus.
Despite price to earnings ratios being high in most developed market indices, investors have developed a fair degree of risk aversion which was evident by the stunning speed in which equity markets recovered in 2020 despite company earnings showing no clear sign of recovery.
This level of unbridled optimism will not be as irrational in 2021 but it will still require investors to put away thoughts of PE multiples returning to anything approaching historically "normal levels" in 2021.
Policy support will be there in 2021 and given the level of balance sheet repair undertaken in 2020 undertaken by international corporates, higher valuation ratios will just be water under the bridge in 2021 as investors steer money to equities.
As economies reopen, the concentration of equity returns is likely to be broader in 2021.
Energy, retail and airline/travel stocks should be better, but investors will no doubt have a much more bottom up focus, rather than top down as not all boats will rise on the rising tide.2020 saw the market strongly favour growth stocks over value.
The impact of COVID-19 meant that stocks had to be able to grow earnings within a global economy where the constituents had decreased mobility, were socially distanced and learned how to work and learn effectively from home.
We also did not abandon the desire to reduce greenhouse gases with structural reform being implemented changing the landscape for car and energy companies. Tesla probably epitomises most this change with the electric car manufacturer and battery producer being treated more as a tech stock rather than a manufacturing company, with the company's valuation rising to be the 7th largest company on US exchanges despite only turning a profit in 2020.
Financial stocks can be expected to recover in 2021 as economies reopen and confidence returns. Provisioning has been conservative throughout 2020 and balance sheets are in good shape which augurs well for 2021.
That said, low interest rates and flatter yield curves have reduced net interest margins, and this should continue to drag on earnings.
The new age "buy now pay later" stocks continue to eat into retail revenues and may limit financial shares returning to the high dividend yield status that they once enjoyed.
ESG became an increasingly important thematic for investors and this is expected to continue in 2021. The growing funds under management adhering to ESG standards is putting listed companies under pressure to align their business models and practises with ESG standards. Investors are becoming more insistent that their managers include protection against governance issues along with the feel-good stature of knowing that the environment is better off (or less harmful) and that sustainability of the business is front of mind.
So how does this leave our view for global equity markets in 2021?
Investors are being forced to take a glass half full approach, with zero % interest rates expecting to be in place for 2021 and much of 2022.
Analysts have been slowly pushing the earning recovery into the back end of 2021 and into 2022 and this will impact sentiment in the short term. That said, the US equity market should finish 2021 higher than 2020 but anymore upside than 7% is starting to push logic.
Europe for my mind could catch up somewhat versus the US as it underperformed in 2020, but it has issues, not only with Brexit but with its own members as Hungary and Poland are both voting against the recent stimulus package.
Europe could be up to 8.5% higher by the end of 2021.
Finally, the strongest equity markets will be Asian, as their recovery post COVID-19 has been robust and their valuations substantially lower than western equivalents.
Growth will be very front of mind as the economic recovery in the region really takes hold as 2021 evolves.
The burgeoning middle class in China and India will drive consumption and the adoption of new technologies will come more easily as no strong western incumbent exists.
In this writer's eye, emerging markets especially Asia, could be 9% to 10% higher in 2021 making it my pick for investor focus.
---
The views expressed in this article are the views of the stated author as at the date published and are subject to change based on markets and other conditions. Past performance is not a reliable indicator of future performance. Mason Stevens is only providing general advice in providing this information. You should consider this information, along with all your other investments and strategies when assessing the appropriateness of the information to your individual circumstances. Mason Stevens and its associates and their respective directors and other staff each declare that they may hold interests in securities and/or earn fees or other benefits from transactions arising as a result of information contained in this article.