Australian Reporting Season gets going
The ASX 300 stocks start reporting earnings in earnest next week, with 30 companies reporting. This season will be more poignant than most, with the market expecting management teams to give some hard perspective on the impact of COVID-19 during the months of March, April May and June. Leading into this season, consensus analysts' downgrades have settled around being 15% lower than 2019, however some banks like Citi expect this number to be closer to 20% lower for 2020. Clearly with the resurgent of cases in Victoria and the subsequent lockdown, investors will also be very interested in managements forward outlook, and subsequent guidance, if of course any can be given at all. In the chart below we are at the end of week 2 about to start week 3.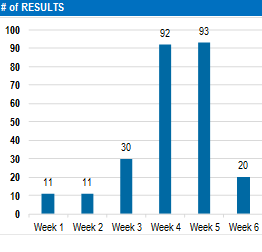 Source: JPMorgan
Thursday 6th August
ResMed Inc, Centuria office, Elmo Software, Nick Scali.
ResMed will be the one to watch today with some analysts hoping for a more resilient 4th quarter.
Friday 7th August
Charter Hall long Wale REIT, Newscorp, REA Group, Insurance Australia Group.
Monday 10th August
GPT Group.
Tuesday 11th August
Shopping centres Aust, Charter Hall Social, James Hardie, Challenger, Computershare.
With much of the economy hinging on construction, the result of James Hardie will give colour on the US construction sector. JHX has already indicated that its Q1 margin is up from earlier guidance range of 22% to 27% to a narrower 27% to 29%. These margins are the highest in 5 years and resulted in a raft of broker price target upgrades in late June.
Wednesday 12th August
Centuria Capital, Transurban, Seek Ltd, Downer EDI, Magellan, Mineral Resources, Commonwealth Bank, Aurizon Ltd.
CBA is the favoured of the big four banks, with the least exposure to SME than NAB and less exposure to Victoria unlike ANZ & NAB. That said the low rates, NIM, COVID-19 provisions and dividends will all be of significant interest in this result
Transurban, the toll road operator will have market looking for guidance on distributions for 2021. The impact of COVID-19 has seen traffic volumes recover to within 10 to 15% of pre COVID levels in most states with the exception of Victoria. Analysts in the best-case scenario see Australian traffic volumes for 2021 as flat on 2019 levels meaning no growth in 2 years.
Downer EDI has already given market guidance to its result with a statutory loss of circa $150m for the year, taking a $386million charge made up of impairments, restructuring and portfolio review costs, and legal costs. Having already repaired its balance sheet with a $400m cap raise last month partly used to purchase the balance of Spotless, the recent contract wins totalling $324m across power generation, oil & gas and industrial sectors are a strong endorsement of its existing customer base.
Thursday 13th August
Charter Hall Retail REIT, Goodman, AGL Energy, Woodside, Telstra, Treasury Wines, Breville, AMP, Evolution, Arena REIT.
A busy day with some widely held leaders reporting. Goodman and Evolution have been strong performers in last few months. GMG reaffirmed guidance in June with EPS of 57.3cps and FY distribution of 30cps, while Evolution has risen along with the gold price, focus will be on its All in Sustainable cost and operational guidance.
The energy sector has struggled with oil & gas prices under pressure globally and Woodside has already announced large impairment charges as a result. The market will be looking for announcements regarding Scarborough debottlenecking and other operational changes to enhance growth.
Telstra will be about its 5G roll out, improvements in mobile pricing and potentially dividend increases. The gradual separation of infrastructure assets from retail assets could provide the platform for Telstra to realise further value for shareholders over the longer term.
Friday 14th August
Iluka, Newcrest, Baby Bunting, Lifestyle Communities.
Newcrest's recent production report for the June Qtr has already given the market a clear lead on its result. All boats rise on a rising tide and Australia's largest gold producer is no exception. With the Cadia mine being a star performer with an AISC of just $170 per oz and gold touching the magical US$2000 oz yesterday, the market may look to operational gains from its Lihir mine for further margin improvement.
Iluka's mineral sands production fell 11% yoy while first half sales slipped 20% to 241,600 tonnes. The market is awaiting news on the spinoff, of the iron ore royalty business, which could give incentive for investors considering iron ore touched US$116 per tonne yesterday.
The views expressed in this article are the views of the stated author as at the date published and are subject to change based on markets and other conditions. Past performance is not a reliable indicator of future performance. Mason Stevens is only providing general advice in providing this information. You should consider this information, along with all your other investments and strategies when assessing the appropriateness of the information to your individual circumstances. Mason Stevens and its associates and their respective directors and other staff each declare that they may hold interests in securities and/or earn fees or other benefits from transactions arising as a result of information contained in this article.