With equity markets and analysts focused on the earnings season in the US and bespoke company research being the main product of note, Citi produced a more macro piece on Friday that pointed out how these unprecedented times have stressed traditional financial market relationships, and I thought it would be well worth sharing some of their thoughts here.
The health crisis which bought on the social and economic lockdowns globally and the most proactive central bank intervention since WW2, has created a breakdown in the norms and this has created uncertainty in global equities.
The first is following big falls in forecast earnings, the equity market followed in dramatic fashion, which was typical. The decoupling has come as equity markets had an equally surprising rally, very much driven by the stimulus provided by central banks globally. With earning season upon us, we are not surprised by the hit to earnings for 2020 announced by global companies, but given the 12 month forward global PE is now circa 20X up from 16X at the start of the year, Citi believe much of the upside to the economic recovery is now priced in.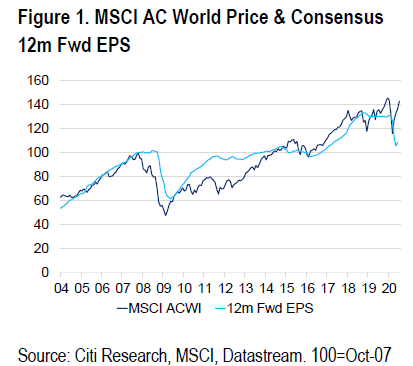 The steep rebound in equity prices has historically been accompanied by a rising government bond yields. This has not occurred with rates suggesting the tough times are not over and that equities may well have overstepped.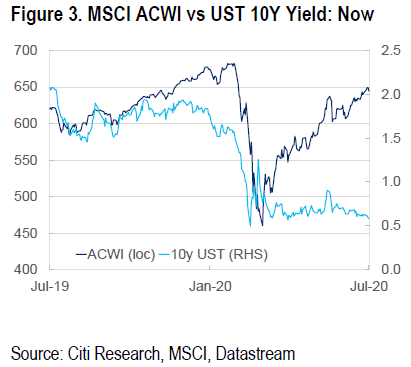 The health crises caused significant falls in asset classes, with equities bearing the brunt of this fall in early March. With the equity markets in some cases fully recovered, with the S&P 500 now back to levels not seen since late February 2020, despite the fact that the health crisis is far from over. Initially markets fell as cases rose, then markets rose as cases fell. Now with rising cases again, equity markets continue to rise. Should further lockdowns be implemented especially in the US, this could put current equity indices levels at risk.
Growth stock and value stocks normally perform in tandem in recoveries. Not this time. The MSCI Global Growth Index is now back to its yearly highs while the Value Index is still down 15% below its February high. The focus on US growth stocks is very poignant.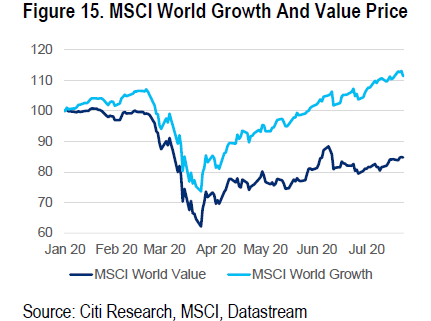 Strong recoveries are normal associated with a rotation into cyclical and defensive stocks. Not this time, with many investors believing there is still a fair degree of risk in forward earnings and a sustainable economic recovery.
Citi highlights how financial stocks have languished in this equity recovery, something that is historically uncommon in a non-financial crisis. Bank stocks like bond yields have stayed low. Concerns over rising defaults in retail, housing and energy present immediate challenges for financial stocks.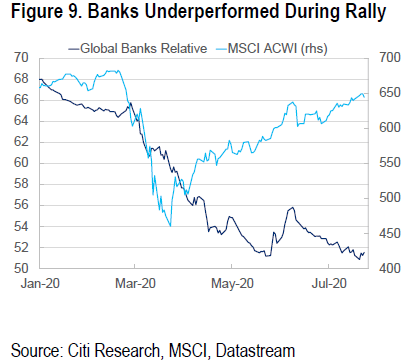 It will be a big week for corporate earnings in the US and globally with earnings from large tech companies such as Google, Amazon, Apple and AMD reporting. Samsung Electronics will also be reporting. Oil majors Chevron, Exxon, Total and Royal Dutch Shell will also be reporting while earnings are expected from Rio, Vale and Anglo American with a focus on iron ore production. Figures from ArcelorMittal will be watched for signs of recovery in the industrial space. Financials reporting will include Deutsche Bank, BNP, Barclays, Nomura and Swiss Re. Earnings from Caterpillar and GE will also be watched. The weaker USD is expected to help the earnings of commodity players including oil, iron ore and gold. All five oil majors are expected to report a loss with many companies already taking write downs.
US Earnings
Mon: Beyond Meat, Hasbro, Mylan
Tue: 3M, Avis Budget, Lab Corp, Amgen, Chubb, McDonald's, Starbuck's, Raytheon, DR Horton, eBay, Franklin Resources, Groupon, GrubHub, Visa, Martin Marietta, Pfizer,
Wed: Baker Hughes, Penske Automotive, Bunge, Boeing, GE, Yum China, Lam Research, GM, Moelis & Co, Equinix, Facebook, Janus Henderson, PayPal, Qualcomm, Shopify, Spotify
Thu: Alphabet, Amazon, Apollo Global, EA, Atlassian, Baxter, Beazer Homes, Yum! Brands, Ford, P&G, Cigna, US Steel, Newmont, ConocoPhilips, Digital Realty, Kraft Heinz, Expedia, Mastercard, MGM Resorts, UPS,
Fri: Under Armour, Merck, CBRE, Exxon, Colgate Palmolive, Caterpillar, Chevron, Pinterest.
The views expressed in this article are the views of the stated author as at the date published and are subject to change based on markets and other conditions. Past performance is not a reliable indicator of future performance. Mason Stevens is only providing general advice in providing this information. You should consider this information, along with all your other investments and strategies when assessing the appropriateness of the information to your individual circumstances. Mason Stevens and its associates and their respective directors and other staff each declare that they may hold interests in securities and/or earn fees or other benefits from transactions arising as a result of information contained in this article.