"I'll tell you once more before I get off the floor."

 Electric Light Orchestra [1979]
Last week we posted a broad-ranging discussion with many useful and interesting anecdotes relating to various market sectors. One of the charts that caught my eye was this one of the lithium carbonate price relative to the Tesla share price. Since 2015, when the focus on Electric Vehicles (EVs) and the electrification of the world was taking hold, investors flocked to any number of listed lithium investment plays.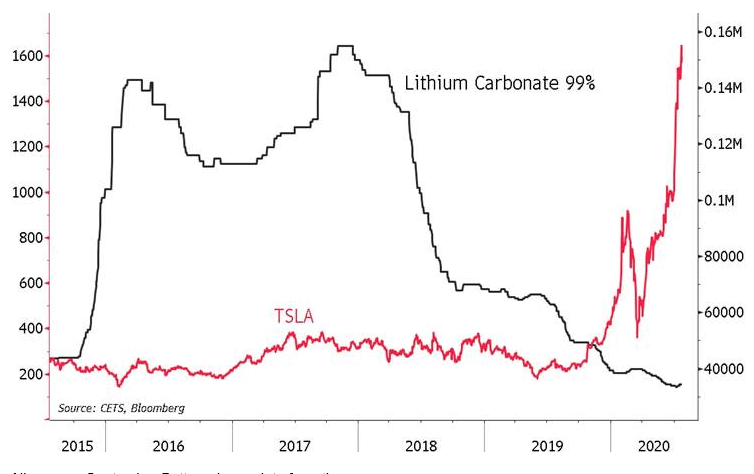 The level of scepticism towards Tesla back in 2015 was meaningful, with the establishment of Ford, GM, Toyota & VW, without shooting Elon Musk's vision down, pretty much ignoring his business model and continuing on their own traditional path. Remember diesel gate? The following chart highlights the enormous change in market capitalisation in the car industry. Tesla market cap is the left axis with Ford, GM and VW is on the right axis.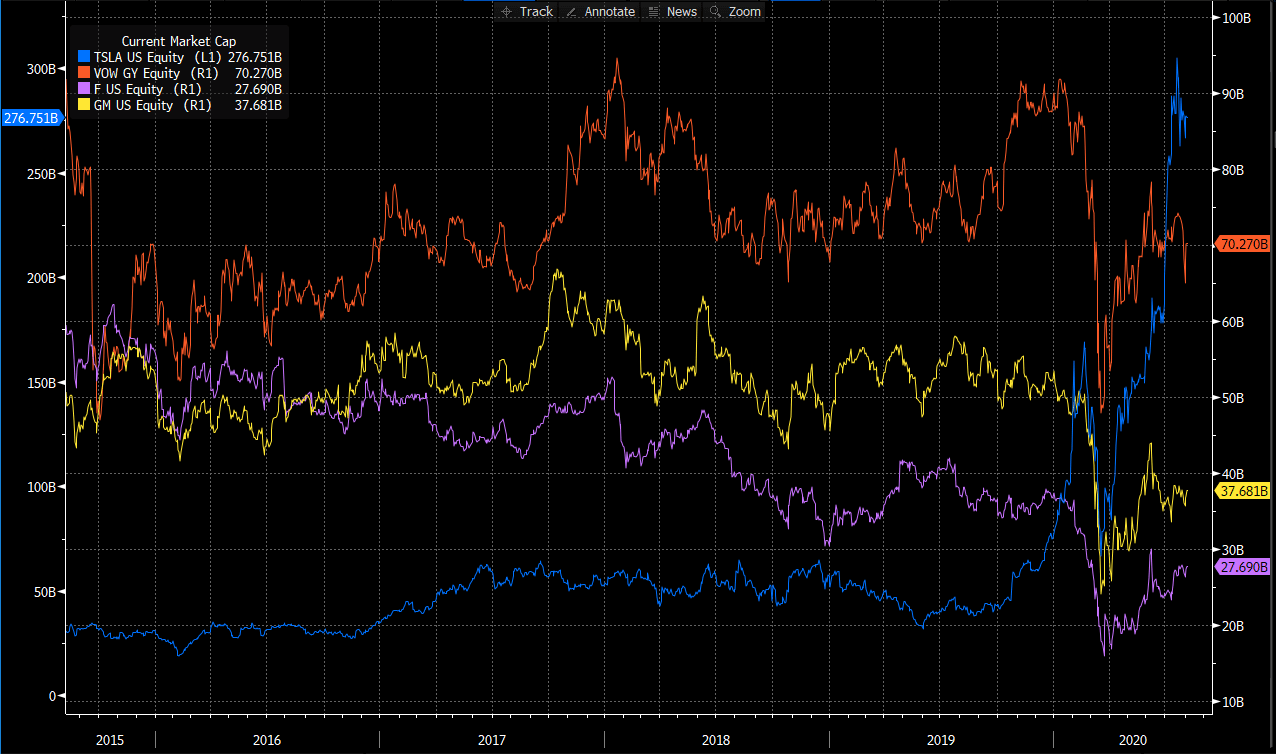 Source: Bloomberg
Tesla's "Battery Day" on 15th September is widely anticipated. Elon Musk has stated he will reveal significant advances in the company's battery technology. This technology is rumoured to be around the development of a lithium iron battery, rather than the lithium ion battery that is the fundamental chemical science powering existing electric vehicles to date. The removal of the controversial Cobalt element from the battery along with new technology, is expected to deliver a battery that allows a car to travel up to 640km between charges and last for up to 1,600,000 km. All of this could add increased volatility to the price of lithium.
Having a battery that outlives the car, probably means that as more battery companies and electric vehicle manufacturers adopt this new battery, the demand for lithium should increase.
Long-Life Batteries (LLB) will change the entire economics of electric cars and electricity storage. This new LLB means that cars may well hold their value longer when they are resold. In the ride-sharing space, cars may now be expected to last significantly longer with the adoption of EV's in that sector. Analysts have been predicting a surge in demand for lithium as the world adopts not only electric cars, but also electric home storage. The timing of this surge is being questioned, as existing lithium producers have had to take ever-decreasing prices to shift production. Albemarle, the world's largest producer of lithium for electric vehicles, posted a 45% drop in 2nd quarter profit on Wednesday, as sales dropped across all its divisions. This is just one of the lithium producers that are doing it tough.
From Australia's perspective, we are very much hoping the lithium price does recover. With 30% of the world's known lithium resources, Australia produced 55% of the world's lithium in 2019. Lithium markets have been weak for over 12 months now, driven largely from inventory overhang in China (the largest EV producer in the world), US/China trade tensions and, of course, the onset of COVID-19. Galaxy resources, a listed Australian lithium producer, estimates there is currently four to five months of supply of spodumene concentrate stockpiled in China. With battery makers only just restarting from a COVID shutdown, lithium prices are expected to stay weak through 2021, which will see a meaningful cut in production from miners. A recovery is expected by 2022.
The announcement by Tesla on 15th September will be a shot in the arm if it does relate to a million-mile battery. This technical upgrade should induce the auto industry to bring forward EV production plans and stimulate demand for the new LLB and demand for lithium. For existing lithium investors, we can only hope this is the case. For those who as yet do not have exposure to the sector, perhaps the phrase "it always seems darkest just before dawn" might apply.
The views expressed in this article are the views of the stated author as at the date published and are subject to change based on markets and other conditions. Past performance is not a reliable indicator of future performance. Mason Stevens is only providing general advice in providing this information. You should consider this information, along with all your other investments and strategies when assessing the appropriateness of the information to your individual circumstances. Mason Stevens and its associates and their respective directors and other staff each declare that they may hold interests in securities and/or earn fees or other benefits from transactions arising as a result of information contained in this article.