One of the best performing stocks on the ASX in the last 10 years has been CSL, who only three short years ago was trading at $100 per share.
Its solid and consistent rise to being, at one point, the largest market cap stock on the ASX secured its place as the bluest of blue-chip companies. In the 5 months since late February when CSL touched $341 a share, the company has now underperformed the ASX 200 by 4.9%, which is surprising considering the health crisis the world now finds itself in. Why has CSL underperformed, and what can we expect from the health care giant over the next six months?
Following the onset of COVID-19, CSL was marked down heavily in line with the rest of the market as investors came to terms with how the new world order would affect individual companies. CSL being a global leader in the delivery of flu vaccines quickly regained nearly all of its losses to close at $328 by mid-April.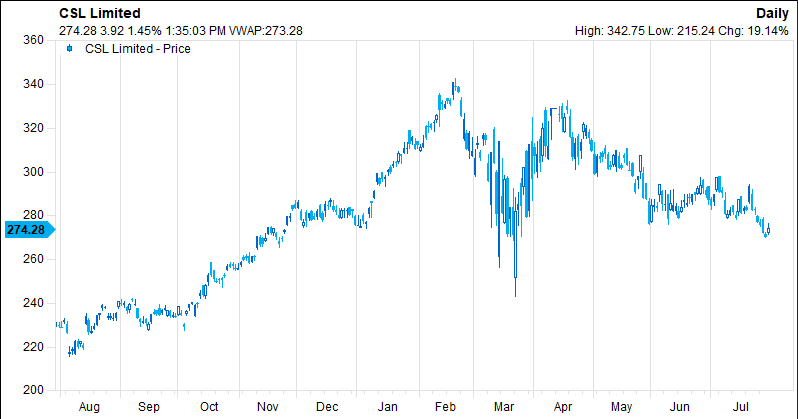 Source: Factset
Prior to COVID-19, investors were starting to question CSL's lofty PE multiple which was around 43X. Given many other stocks were also trading on lofty multiples, especially in the tech sector in the US, investors were probably asking themselves if this was the new norm? By Mid April, Morgan Stanley called time, suggesting that the multiple was too lofty and expected the stock price to fall in absolute terms. Since that good call, the market has realised the imposition of social distancing and lockdowns have had on plasma collections on CSL's business, especially in the US. With pressures on getting donors to site for collections, costs have risen due to higher donor fees and advertising costs.
Being 5 months into COVID-19 and more importantly in the northern hemisphere summer, analysts have turned their attention to the outlook for the Euro/US flu season. Competitor Sanofi reported last night that demand is expected to be strong, with dual concerns for the populous of COVID-19 and influenza infections. For CSL Seqirus division, UBS are forecasting 9% revenue growth for the northern hemisphere in 1st half 2021, on the basis that CSL has the capability to ramp up flu vaccine production, which we should get guidance on at CSL's result on 19th August.
In 2019, the US flu vaccination penetration rate was circa 50%. The CDC (Centre for Disease Control), has aspirations of 75% to 80% for the upcoming flu season. The need to get high percentages of the population vaccinated for the flu is important as those most vulnerable to the flu are also those most vulnerable to COVID-19. Preventing diseases like the flu via vaccination keeps the hospital system in a better position to handle sudden increases in the more serious COVID-19 cases. Should such demand materialise, CSL's Seqirus division is well placed to benefit from this.
From a valuation perspective, the slide in share price has resulted in CSL PE being a more respectable 37X 12-month forward consensus EPS, still a decent premium to its 5 year average PE of 30X according to UBS. UBS has a price target of $331 a share, and given the outlook for the northern winter, CSL could be just the shot in the arm investors are after.
COVID-19 and flu vaccines aside, another reason for CSL's underperformance is the potential development of synthetic plasma. Argenx FcRn has a product in development that has reached a "go no go" to phase 3 decision. If this product is successful it would mean that large pools of plasma would not be required, which would significantly change CSL's earnings. In this regard Morgan Stanley has a revised target price of $270 while over at Macquarie, they are holding steady with a price target of $300.
Macquarie Group announced their 1st quarter results yesterday stating that is Q1 revenues were slightly down on previous corresponding period. Given the strength of the balance sheet (CET1 ratio of 13.2%), they were in good shape to take advantage of opportunities as they arise during these challenging economic times. One of the key risks in the Macquarie model is their capital markets division, should market volatility rise as earning invariably fall as asset prices decline. UBS has assumed Macquarie will reduce its dividend payout ratio to 50% implying a 1st half div of $1.50 per share. UBS has a price target of $105.00 per share.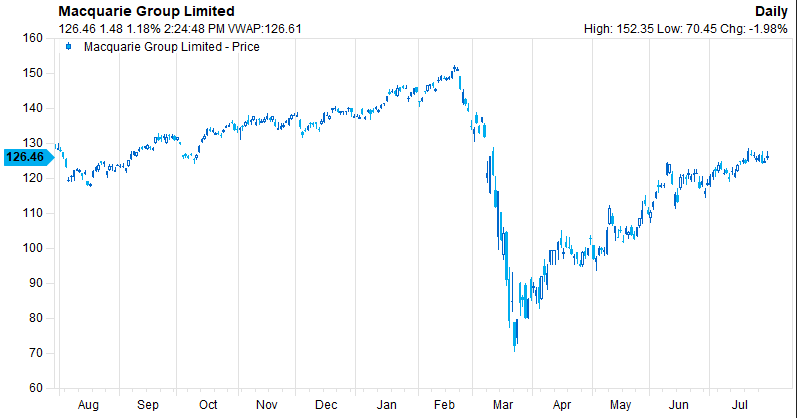 Source: Factset
The views expressed in this article are the views of the stated author as at the date published and are subject to change based on markets and other conditions. Past performance is not a reliable indicator of future performance. Mason Stevens is only providing general advice in providing this information. You should consider this information, along with all your other investments and strategies when assessing the appropriateness of the information to your individual circumstances. Mason Stevens and its associates and their respective directors and other staff each declare that they may hold interests in securities and/or earn fees or other benefits from transactions arising as a result of information contained in this article.