In this COVID-19 world, there has been many behavioural norms that society and individuals have been forced to accept.
This manifests in an inability to catch up with friends at a restaurant, heading out to watch your favourite sport or being forced to work from home.
These new norms have impacted the valuations of businesses, with changes to businesses operations and what their future looks like out one to two years, being the focus of investors' attention.
In this note I want to look at one sector that has performed well in this COVID-19 world and has returned positively over the last 12 months.
The consumer staples sector consists of 71 listed stocks on the Australian Stock Exchange and covers three industry groups;
Food, Beverage & Tobacco industry contains packaged foods, agricultural products, brewers, distillers, soft drinks and tobacco companies.
Household & Personal Products industry contains companies producing products like toiletries, vitamins, supplements and other health and household products.
Food & Staples Retailing industry contains companies involved in food and drug distribution and retail
(Source Listcorp.com)
The Consumer staples sector is dominated by companies whose products and services are consumed by households every day.
Everyday items such as food, household items like toothpaste, shampoo and toilet paper.
The stores in which we buy these staples have performed very well, not only over the past 12 months, but over the past twenty years.
The chart below looks at the performance of Consumer Staples vs the ASX 200 over the past 12 months. In this time the Consumer Staples index (red line) has just returned into positive territory, up 1% while the ASX 200 (blue line) is still down 11% on this time a year ago.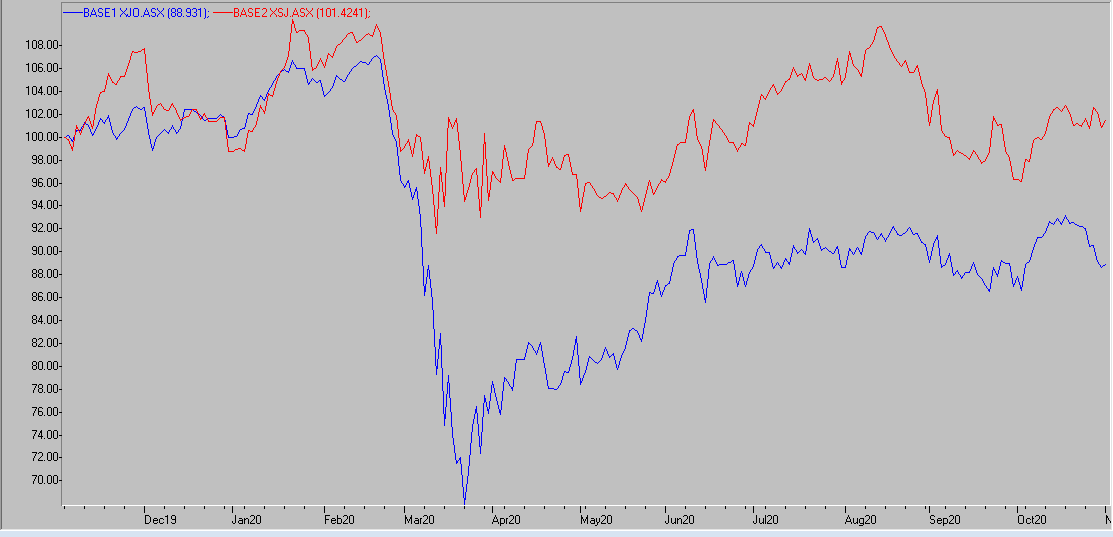 Source Iress: ASX 200 v Consumer Staple Index.
What is even more impressive is the 20-year performance which has the Consumer Staples index up 337% since November 2000 while the ASX 200 is up 182% in the same time period, which demonstrates, the reliability of returns over the long term and is not just a Covid -19 phenomenon.
Looking at the Industry Groups within the sector
Food & Staples Retailing Group has the smallest number of companies listed with 5, but importantly, the two largest companies by market capitalisation dominate the list, being Woolworths Group (WOW.ASX) and Coles Group (COL.ASX).
In terms of food and grocery retailing, these two companies have dominated the landscape in Australia over the past 30 years and despite inroads made by the German group Aldi and US based Costco, it seems likely this dominance will continue.
Over the past 12 months the dominance of these two retailers has been reflected in the share price with both companies continuing to outperform the ASX 200.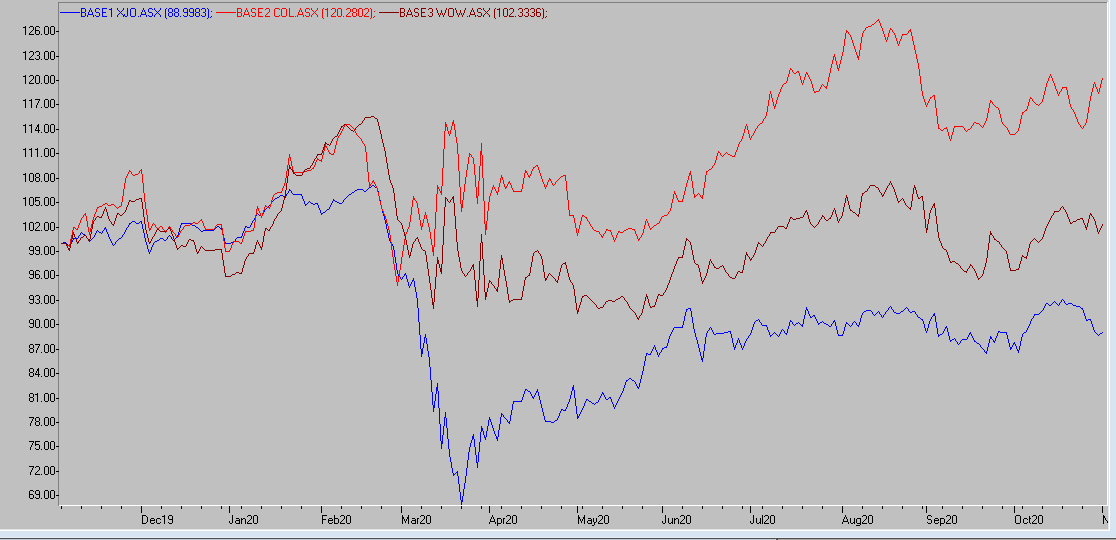 Source Iress: (ASX 200 Blue.) (WOW. ASX Brown). (COL.ASX Red).
The group with the largest number of companies is Food, Beveridge & Tobacco with 54 of the 71 companies within the sector.
This is the more difficult sector to find winners and losers with many of the companies directly involved in the production of food.
Food production has so many unforecastable influencing factors that impact the financial performance of individual companies.
Whether its drought, anti-dumping regulations from offshore markets or labour market issues, each company within this subgroup requires detailed research before making an investment decision.
Top companies in this sector include A2 Milk (A2M.ASX) which had been barely impacted post COVID only to see its fortunes wane after it disclosed a move into milk manufacturing and that its "Daigou" sales channel contracted more than expected.
Coca-Cola Amatil (CCL.ASX) is the second largest company within the group, had tracked the performance of the broader ASX 200 index, until a bid for the company emerged from Coca-Cola European Partners, which has seen its share price surge and has it up on a 12-month basis.
Elders Ltd (ELD.ASX) has been the standout performer in the group as investor sentiment changed completely as the crippling 18-month drought which had devastated the wider agricultural sector broke.
The La Nina driven rains have been a boom for the Ag services sector and farmers confidence improved as investment in crops, chemicals, fertiliser and livestock boomed.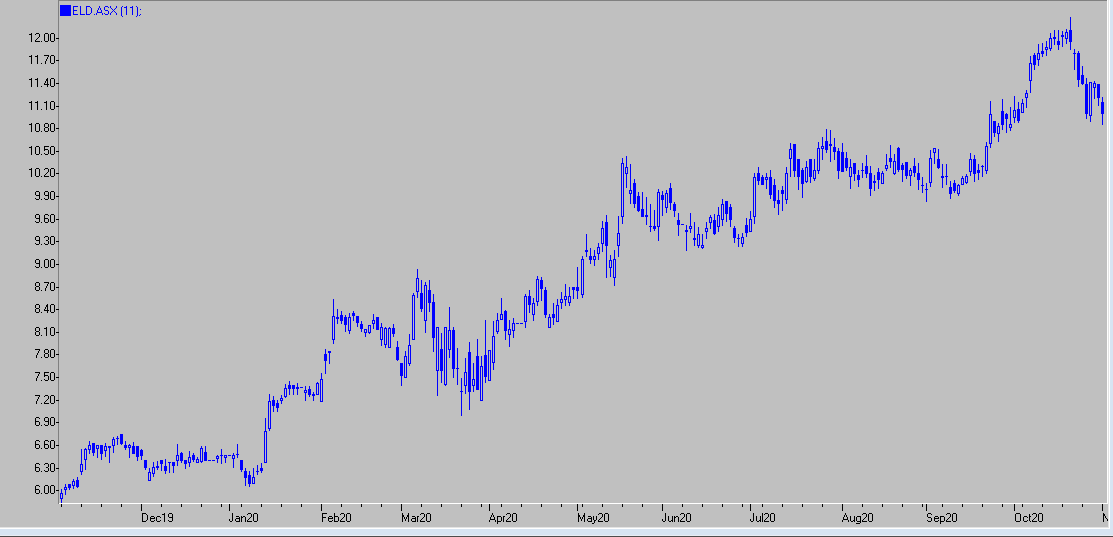 Source: Iress, Elders Chart
The Household & Personal Products group comprises of 12 stocks with Blackmores Ltd (BKL.ASX), Australia's leading natural health company being the largest company by market cap within the group. With only four companies with market caps of over $250m this group is much more speculative, and investors should consider this when looking at sector.
When looking at a balanced portfolio, the resilience of the consumer staples sector has certainly stood the test of time and given the extraordinary nature of the last 12 months, the basis for investing in the sector has only been reinforced.
Societies dependence on a robust supply chains for the delivery of fresh food and essential household items remains a core need and will underwrite the sector's importance going forward. Returns may not be as spectacular as say the technology or healthcare sectors, but over the longer term, the less volatile nature and reliability in performance should give investors comfort. In this regard, the consumer staples sector should be considered a core investment for those looking for a balanced portfolio.
The views expressed in this article are the views of the stated author as at the date published and are subject to change based on markets and other conditions. Past performance is not a reliable indicator of future performance. Mason Stevens is only providing general advice in providing this information. You should consider this information, along with all your other investments and strategies when assessing the appropriateness of the information to your individual circumstances. Mason Stevens and its associates and their respective directors and other staff each declare that they may hold interests in securities and/or earn fees or other benefits from transactions arising as a result of information contained in this article.