In this Covid world, Australians have had to become a bit more personal in their search for social interaction, recreation and entertainment. Depending on the level of social restrictions in place, most forms of entertainment have experienced some form of change.
Whether it was going to the cinema, having dinner out at a restaurant or travelling interstate or overseas, our traditional forms of recreation may not be as available or accessible as we were once used to. This has come at a cost to the fortunes of travel & leisure stocks, as well as a large number of small to medium enterprises in the tourism sector, both in Australia and overseas.
One sector that has seen a resurgence is the Outdoor Sector. As people take a more personal approach to recreation, we are now getting away from the gym and travel holidays and into more individual pursuits that has certainly befitted a small but reasonably well-known group of global listed companies. Activities including golf, kayaking, running/hiking & camping have all become the focus as individuals and families seek other forms of entertainment that compliments the existing device and technology related sectors, such as gaming, communication technology and online retail.
Johnson Outdoors (JOUT.NASDAQ) has seen its share price appreciate over 70% since the lows of March. The maker of camping and kayaking gear, along with fishing and hunting brands, it also sells the Scubapro diving gear and Humming Bird sonar and GPS equipment for fish finding and marine cartography.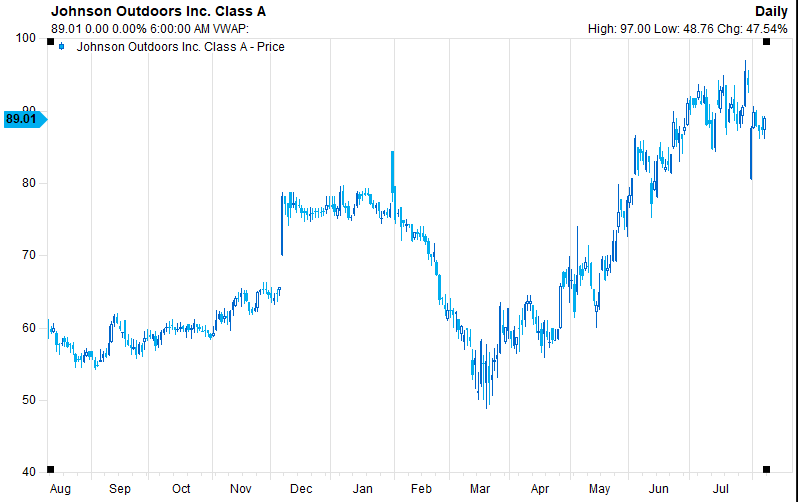 Source: Factset
In the wearable space, the high-tech sport watch brand Fenix Outdoor Inc (STO:FOI.B) has had an even better run since the March lows, being up 86.6%. Fenix watches are the go-to rugged hard-core sports watch with inbuilt GPS and heart rate monitoring along with specific sports programs tailored to swimming kayaking, cross country running etc.
Another Swedish company that has done well in the post COVID era is Thule Group (STO:THULE). Specialising in such items like cargo carriers for skis & snowboard, roof racks for all kinds of sporting equipment, as well as protective cases for laptops and mobile phones, Thule has seen its share price appreciate by 84% since the March lows.
In the sportsware & sports shoe segment, Japanese company ASICS (7936-JP) has seen a 83.6% increase in its share price, while German sporting goods manufacturer Adidas (ADS-DE) has seen a more modest 43.9% growth since the lows of March 2020.
Of course, no discussion on outdoor recreation would be complete without reference to golf. Calloway Golf Company (ELY.US) manufactures and distributes golf equipment and accessories, including the Calloway branded woods, hybrids, irons and wedges along with the Odyssey putters. The apparel sales includes, noted brands such as Jack Wolfskin & Travis Mathew Golf apparel brands. Since March 2020, Calloway Golf has been a star performer appreciating 236% as golf becomes even more popular in these post COVID times.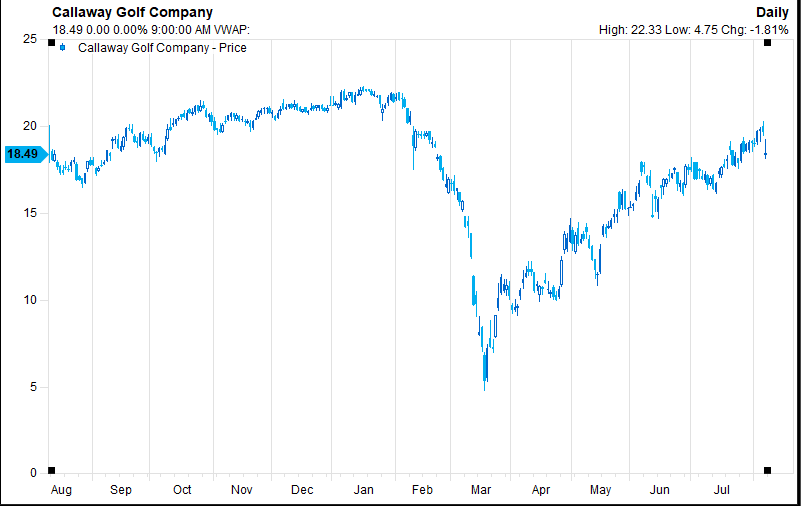 Source: Factset
On a more sensitive outdoor and indoor activity is the listed gun sector in the US.
When Americans get concerned about their personal security, there tends to be an increase in gun sales.
If the effects of the onset of COVID-19 restrictions and lockdowns were not bad enough, the death of George Floyd in late May, has caused a huge increase in firearms sales to private citizens. The statistics relating to gun ownership are concerning.
In March 2020, there was 3.7million background checks on buyers of firearms, up 41.4% year on year.
In January 2020, gun sales were up 24.8% while in February the number was 36.4%, April 71%, May 80% and June a staggering 145%.

Source: NY Times
The iconic Smith & Wesson epitomises the interest the investment community has in private firearms. Since mid-March at the height of the corona virus sell off, Smith & Wesson's share price fell to low of $5.52.
On Friday in the US it closed at $26.33, a 377% increase from March.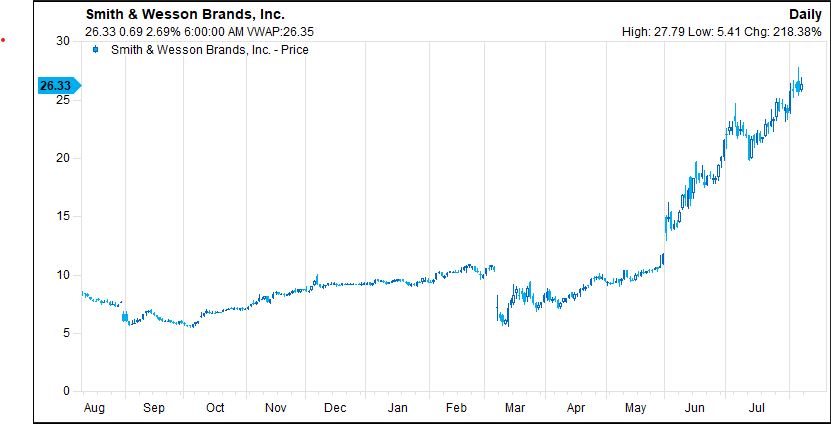 Source: Factset
As hard as gun ownership is to discuss, let's hope that the world does find a vaccine for the coronavirus and that as a global community we become more tolerant towards our fellow citizens, irrespective of race creed or religion, so the need or desire for gun ownership actually declines.
The views expressed in this article are the views of the stated author as at the date published and are subject to change based on markets and other conditions. Past performance is not a reliable indicator of future performance. Mason Stevens is only providing general advice in providing this information. You should consider this information, along with all your other investments and strategies when assessing the appropriateness of the information to your individual circumstances. Mason Stevens and its associates and their respective directors and other staff each declare that they may hold interests in securities and/or earn fees or other benefits from transactions arising as a result of information contained in this article.