Economic Outlook for 2021 and US/China relations under President Elect Biden.
With 2020 almost over, I have been researching what 2021 could hold, especially for Australia's largest trading partner, China.
Given that the global pandemic may have started in the Chinese city of Wuhan, the ability of China to get its own economy rolling again is not only important for Australia, but also critical for the US and the global economy.
How will relations develop with a new man in the White House? Will the highly-publicised tariffs imposed in 2019 & 2020 (which are very much responsible for swings in equity markets) be retained, or will a Biden presidency pour oil on the waters and trade become less volatile and more conciliatory?
In a positive signal, China's President Xi Jinping sent a congratulatory message to President Elect Joe Biden on Wednesday, despite the fact that President Trump has, so far, refused to concede.
The State-run Xinhua news agency quoted Xi as saying "Promoting the healthy and stable development of China-US relations is not only in the fundamental interests of both peoples, but also meets the common expectation of the international community… I hope to see both sides uphold the spirit of non-conflict, non-confrontation, mutual respect and win-win cooperation, and focus on cooperation while managing and controlling disputes."
Vice President Wang Qishan also sent a congratulatory message to vice-president elect Kamala Harris.
President-elect Biden and President Xi have personal ties that go back more than ten years, when they were both Vice President.
In 2011, Vice President Biden embarked on a six-day trip to China and travelled with Vice President Xi around China in an effort to forge a stronger relationship with the future Chinese President. If that work will parlay into a more workable and conciliatory relationship between the White House and Beijing remains to be seen, but judging by the recent rally in equities, the signs are positive.
China outlook
Looking out to 2021, what sort of shape is China's economy in and what is the expectation of growth?
According to UBS, exports and domestic consumption are expected to lead China's GDP growth, which is forecast to rebound to 8.2% in 2021.
Assuming the rapid production of effective vaccines, the world should see a significant drop in virus cases by mid-2021 and (hopefully) half of the world's population having some form of immunity by end of 2021.
As the global economy recovers through 2021, China's exports are forecast to grow between 11% and 12%, while the domestic economy is expected to normalise, helped by confidence from vaccine news, which is expected to drive domestic consumption.
Consumption in China is expected to grow by 10% in 2021, coming off a low base in 2020, with consumer services reviving notably. Fixed investment is also expected to improve, led by higher investment in manufacturing capex, while fading policy support will see infrastructure and property investment weaken.
Reduced policy support and efforts to contain leverage
With China's economy back on an even keel, analysts expect the government to keep an eye on containing leverage and controlling financial risks. In this regard, UBS expects to see higher actual rates in the first half 2021 and a small policy rate hike in the second half of 2021. Credit growth is expected to be slower and the fiscal deficit is forecast to decline, as most tax incentives and fee cuts expire. With lower credit growth, the government is expected to be focused on reducing the fiscal deficit, as property policies and financial regulation become more hawkish, with a side benefit of a gradual clean-up of smaller banks.
China's Five-Year Plan
Despite Biden's election to the White House, the reality is that a fair degree of geopolitical tension will remain throughout 2021 and political pressures will likely encourage a supply chain shift away from China, despite the fact that China's fast recovering market will attract a fair degree of offshore investment. Domestically, China is expecting to continue to increase spending in Research & Development, Digitalization and Technology upgrades.
The 2021-2025 Five-Year Plan (FYP) focuses on dual circulation, structural change, innovation and sustainable growth.
To boost domestic demand and productivity, the FYP pushes for increase in the Hokou system and land and capital market reforms. China's Hokou system is a family registration program that serves as a domestic passport, regulating population distribution and rural-to-urban migration. It is a tool for social and geographic control that enforces an apartheid structure of rights enforcement.
The improvement in this social safety net will result in equal access to public services and facilitate labour mobility and productivity, reduce inequality and boost domestic consumption. In addition, State Owned Enterprise reforms could include more mixed ownership, divestment of State capital and a more level playing field for private and foreign enterprises.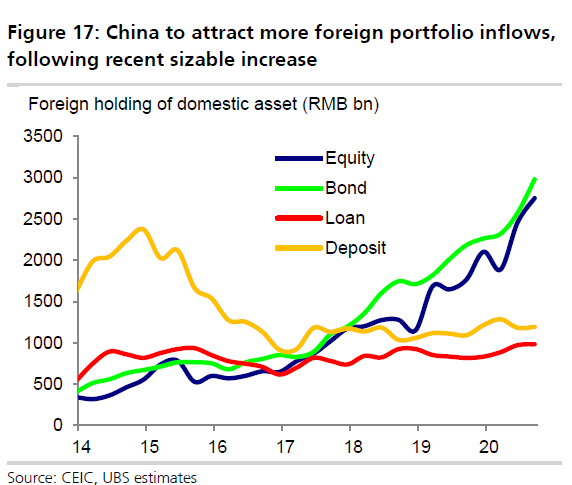 The FYP also looks to improve technology capabilities and focus on achieving a greener economy, with the development of a lower carbon economy.
More details and specific targets of the FYP are expected to be released at the next National People's Congress (NPC) in March 2021.
Biden's presidency and China relations
With congress likely to be split, a Biden presidency is expected to deliver a compromised fiscal stimulus and a reduced risk of a trade war. The tariffs imposed on Chinese exports over the past year are not expected to be unwound, but no new tariffs are expected to be imposed on China – or other countries – which should be a positive for global trade.
The Biden administration will also look for areas of coordinated and strategic cooperation – especially in the area of controlling the COVID-19 pandemic, climate change and non-proliferation with Beijing. Differences on political and national security fronts remain, as does the risk that outgoing President Trump may impose additional measures on China before the 20 January 2021 inauguration date. These could include executive orders, forcing Chinese companies to delist from US equity markets, expanding the list of products that face export restrictions, and imposing additional sanctions related to Hong Kong and Xinjiang.
With the transition to the Biden presidency now formally endorsed, and with many Asian economies – including China's – rebounding well post COVID-19, the level of optimism has certainly increased. As we come into the festive season, starting with Thanksgiving in the US and flowing into December, investors will be looking optimistically to 2021.
Is the level of optimism too high?
This remains to be seen, but the market is taking a glass-half-full approach to current outlook, which bodes well for sentiment.
Let's hope some real increases in earnings emerge in the first quarter next year to justify the equity markets' optimistic outlook.
Updated: The overnight headlines on the deterioration of diplomatic relations between Australia and China is clearly important and will drive sentiment in the short term. Australian exporters will be on edge, as the politics plays out. Australia does understand the value of China in regards to trade, but the reality is the importance of all of our exports to China from China's perspective is quite low, with the exception of iron ore. It puts Australia in a vulnerable position and this is probably not fully factored into Australian equity prices.
The views expressed in this article are the views of the stated author as at the date published and are subject to change based on markets and other conditions. Past performance is not a reliable indicator of future performance. Mason Stevens is only providing general advice in providing this information. You should consider this information, along with all your other investments and strategies when assessing the appropriateness of the information to your individual circumstances. Mason Stevens and its associates and their respective directors and other staff each declare that they may hold interests in securities and/or earn fees or other benefits from transactions arising as a result of information contained in this article.