The candy store paupers lie to the shareholders
They're crossing their fingers they pay the truth makers
The balance sheet is breaking up the sky

Midnight Oil (1990)
Despite the negative rhetoric behind this classic hit from Peter Garrett and Midnight Oil, which refers to the Wittenoom asbestos mine in Western Australia where blue asbestos was mined between 1947 and 1966; mining has been responsible for much of Australia's economic prosperity in the last 30 years. Coal and iron ore are the big contributors, responsible for some 30% of Australia's gross exports.
With pressure from climate change and the increase in renewable energy certainly impacting the demand for coal, the question this article investigates is, what will the Australian Mining landscape look like in 10 years' time?
Are we going to see an ever-increasing momentum shift away from coal, or is the adoption of renewable energy still too slow?
The uptake of renewable energy is especially slow in the Asian region, which raises another question of whether existing coal mines will experience a resurgence and their share prices recover. And what about iron ore? The strong just keep getting stronger with steel demand – especially in China – estimated to grow with the continued urbanisation over the medium term pushing peak steel demand out for potentially 3 to 4 years. Are there other commodities from a global perspective that have the potential to keep Australia's mining industry at the leading edge of the supply equation?
Is nickel back?
One commodity that could fit into this scenario is nickel. For the past 50 years, the principle uses of nickel went into the production of stainless steel. Nickel is what makes stainless steel so durable. With the advent of the electric vehicle industry, the world has focused its attention on the production of batteries. Nickel is used in the production of the cathode in lithium ion batteries. Nickel enhances the energy storage capacity of the battery allowing electric vehicles to travel further on a single charge. The surge in demand for nickel for use in batteries led to BHP choosing not to sell off its Western Australian mine and rather invest further capital by building a nickel processing plant to manufacture nickel sulphate. This investment has paid off for BHP's Nickel West operation, with some 75% of its nickel production now being sold into the electric vehicle battery materials industry. With estimates forecasting 50% of vehicles on the road being electric by 2050, the longevity of a robust nickel industry in Australia looks pretty good.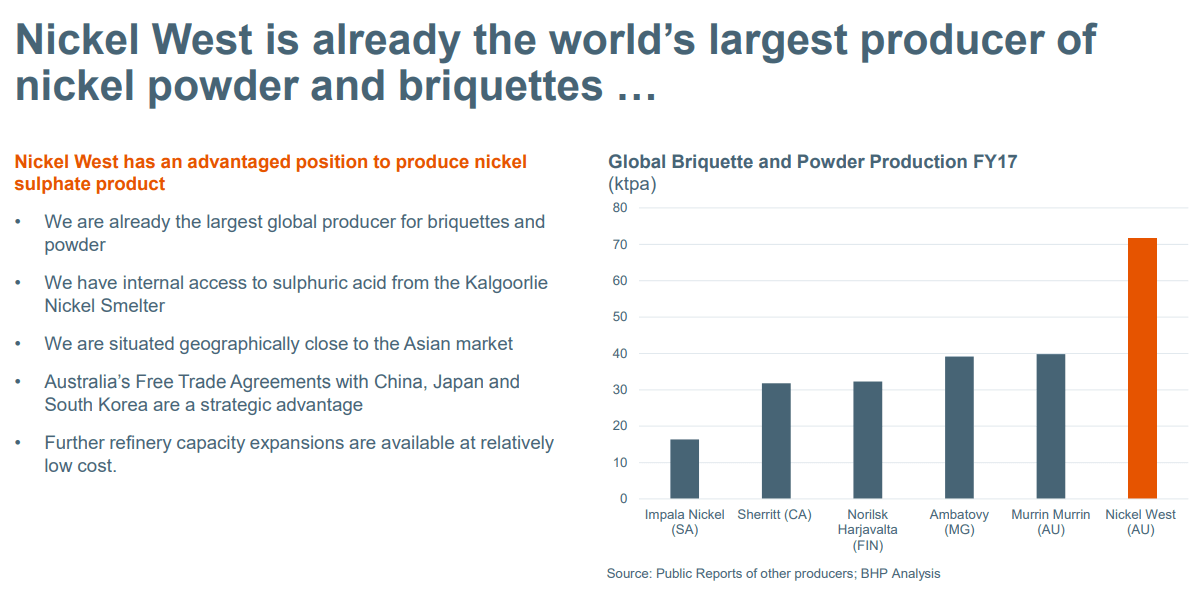 Source: BHP
Large scale growth in battery grade/Class 1 Nickel production, using High Pressure Acid Leach (HPAL) is technically challenging and requires capabilities that experienced mining giants like BHP to deliver. Barriers to entry from both a technology and production perspective are high, with existing Ferronickel and Nickel Pig iron producers finding it prohibitively expensive to remove iron and other impurities to create battery grade nickel sulphate. BHP's Nickel West production of nickel sulphate from the dissolution of refined nickel powder and briquettes at its Kwinana facility in WA is not the only electric vehicle derived product on its radar.
Can cobalt keep up?
Cobalt is another commodity with a critical role to play in the EV sector. Cobalt is also used in the manufacture of cathodes to provide stability and high energy density which allows batteries to operate for longer periods and more safely.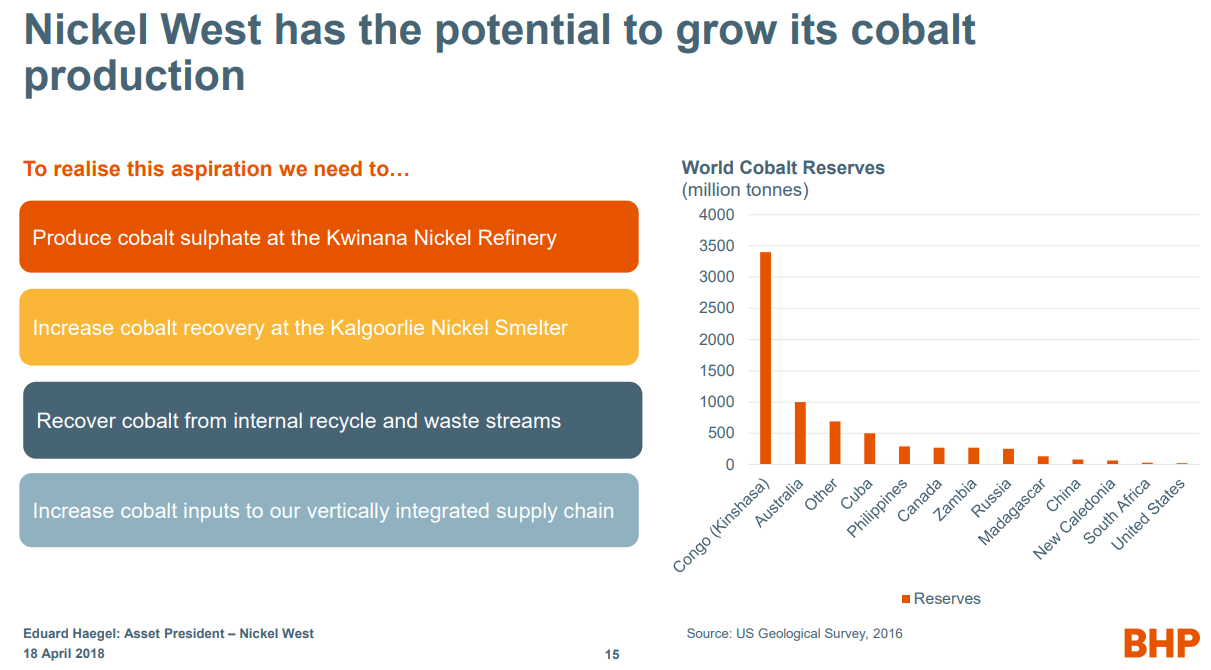 Source: BHP
Cobalt is usually produced as a by-product of copper and nickel ore processing. Despite not having anywhere near the reserves of the deposits in the Democratic Republic of Congo, Australia does rank second, but importantly, does not have the issues of child labour and human rights abuses of the African nation. As the auto and battery makers inch towards a more ESG-orientated source of supply, the technology being developed by BHP in conjunction with the CSIRO to produce cobalt sulphate from high temperature ammonia leach could well become one of those 50-year projects that keep Australia at the forefront of mining and ore processing.
The views expressed in this article are the views of the stated author as at the date published and are subject to change based on markets and other conditions. Past performance is not a reliable indicator of future performance. Mason Stevens is only providing general advice in providing this information. You should consider this information, along with all your other investments and strategies when assessing the appropriateness of the information to your individual circumstances. Mason Stevens and its associates and their respective directors and other staff each declare that they may hold interests in securities and/or earn fees or other benefits from transactions arising as a result of information contained in this article.