In the second part of our domestic outlook series, we run the ruler over:
Materials
Consumer staples
Information technology
Real estate
All four sectors have drawn attention in the past 12 months – generally for good reason – with the exception of the retail side of the REITs sector (which was crushed during the worst of COVID-19 and the lockdowns that ensued).
Materials
Materials has the largest number of companies of all 11 sectors on the ASX, with 663 listed companies ranging from BHP with a market cap of $113.5 billion, to companies with market caps of less than $10 million. Sector-wise, the materials sector was hit hard by the COVID-19 sell off in March, but by June, the recovery was well under way. By mid-August the sector was trading at new highs. The rally in the gold price, which breached the US$2000 p/oz, certainly helped and was a catalyst in the merger of Saracens and Northern Star. Unfortunately, this flame has withered in the past few months as concerns on inflation and economic recovery have dissipated.
Fortunately, iron ore stepped in to fill the breach, ably assisted by copper. These two commodities have taken the materials sector to new highs.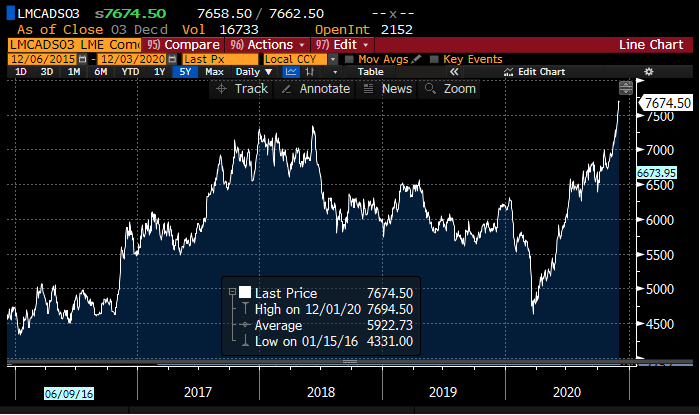 3-month forward Copper. Source: Bloomberg
The recent rally in iron ore to circa US$137 oz has driven FMG to new highs, and Rio to its highest level since June 2008.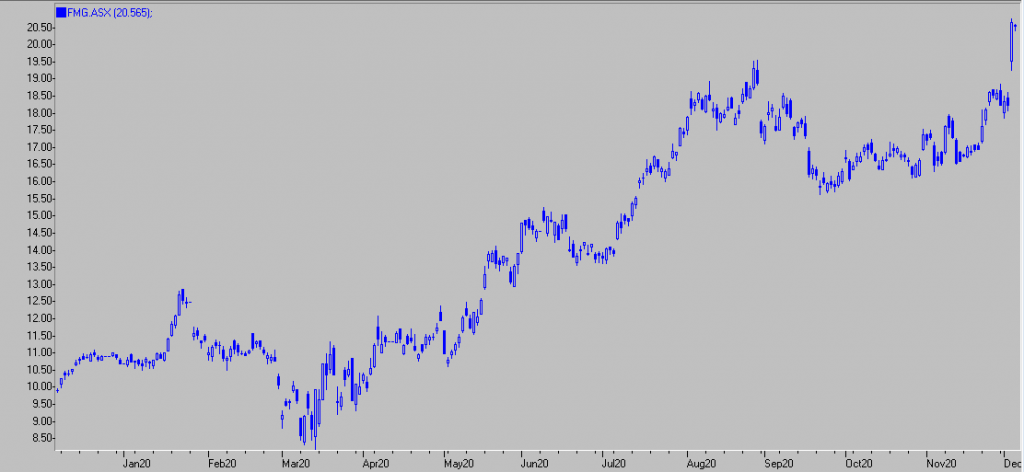 FMG. Source: Iress
The catalyst was a fall in production from Vale, the world's largest producer of iron ore, pellets and nickel. The cloud that hangs over the sector for 2021 is if iron ore will be dragged into the list of exports that China will ban. At present, the market is saying no, and with most analysts sitting with a 2021 forecast of US$85 per tonne, there is a raft of upgrades expected from analysts over the next two months.
Another beneficiary is the Federal Government as Treasury have an iron ore price of US$55 per tonne factored into their tax revenue figures.
With such strong prices, BHP, RIO and FMG, are likely to increase dividends through 2021, which will be an additional catalyst for further support. I have chosen not to include the Bloomberg consensus price targets for the iron ore stocks, as the market analysts are no doubt updating their models as this piece is written.
Bluescope Steel (BSL.ASX) has recovered well post-COVID, with the domestic building boom seeing larger houses being built requiring more steel. The outlook for its international sales especially in the US is clouded as the recent weakness in the US$ has made BSL's product less competitive on price. That said analysts still have 4.9% upside factored into 2021 target price.
Lynas Rare Earths (LYC) has had a year to remember as China/US tensions elevated, and the world recognised Lynas as the only non-China based supplier of critical rare earths. The magnets that go into a modern light-weight electric motors, for electric cars, wind towers and state of the art defence systems, rely on these rare earths and Lynas has the ability to supply both light and heavy varieties of rare earths. After a stellar year, market analysts have Lynas slipping marginally in 2021 with a price target of $3.53, down 11.7% from current levels.
If there is one stock that has divided market analysts for 2021 it's Oz Minerals (OZL.ASX). The rally in the copper price on the back of the electrification of world and the reopening of global economies has been a principal catalyst for OZ Minerals' rally since March. However, the outlook for 2021 has analysts divided, with price targets ranging from $11.50 to $20.00. The average price target is $15.83, which indicates 15% downside from here. From a technical perspective this could be justified in the short term but, should the recovery pan out, expect OZL to be higher in 12-months' time.
Consumer staples
The pandemic certainly focused all of our attention on the supply chain of food (and ironically, toilet paper). Coles (COL.ASX) and Woolworths (WOW.ASX) dominate the consumer staples sector, with COL performing the best, as investors appreciated the lower trading multiple. In 2021, analysts expect WOW to catch up with a target price of $42.25 up 11.7% from current levels, while COL target price is $19.12 some 6.2% higher according to Bloomberg.
Other stocks in the sector outlook is very much company specific. Treasury Wines (TWE.ASX) has been hit following China's attack on Australia's wine exports. If this is relaxed. expect a recovery. However, if the tariffs remain in place, then TWE could sink further. Elders Group (ELD.ASX) has had a great year with the breaking of the drought and the recovery in Australia's agricultural sector driving investor optimism. 2021 has this optimism continuing with analysts forecasting a price target of $12.73 for Elders, some 23.6% higher than current levels.
A2M came through the ides of March relatively unscathed, but the travel lockdowns and the closure of the daigou channel to sell and distribute their product has hurt them. Analysts have taken a glass-half-full approach and expect a recovery throughout 2021, with a target price of $16.76 some 25% above current levels
Bega Cheese (BGA.ASX) is quietly collecting a suite of household names. Vegemite, Bega Cheese, B Honey and now the stable of Kirin's dairy and juice products, has kept investors on the hop. 2021 should see the company consolidate and bed in the recent acquisitions. Nonetheless, analysts like what they see and still have 4.8% upside from current prices with an average target price of $5.49.
Information technology
Afterpay (APT.ASX) dominance of both the price charts and the popular press is thoroughly deserved. The Buy Now Pay Later (BNPL) sector has been hot in 2020 and APT was the poster child. Despite being a financial stock, it sits in the Tech sector and has been one of the world's best performing stocks. Falling below $10.00 during March, APT has not put a foot wrong since and has climbed relentlessly to over $100 in November. Many analysts struggle to understand or value the company, although many have been forced to cover the stock, which now sits firmly in the ASX 20. No one expects APT to repeat this year's performance in 2021, with the average price target according to Bloomberg being $98.62, some 2.1% higher than current levels.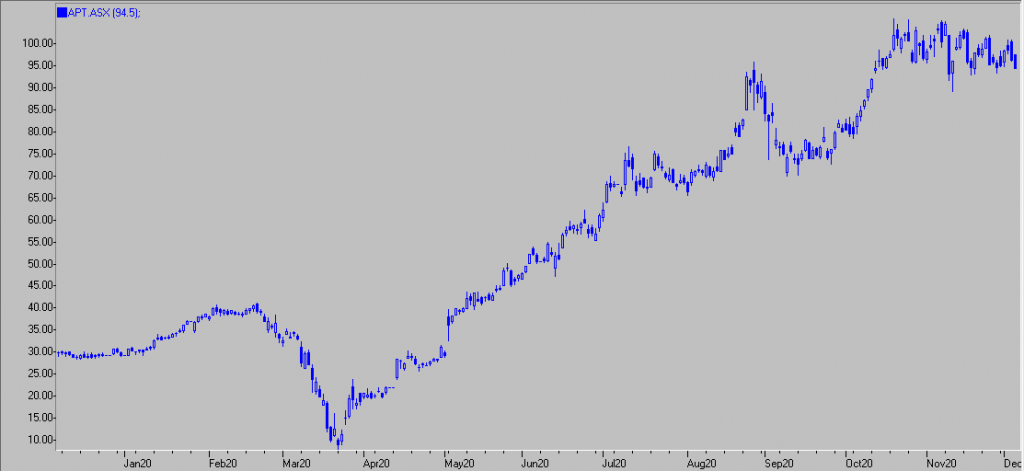 APT. Source: Iress
Xero (XRO.ASX) the cloud-based accounting software company has also had a stellar year, but analysts do not think the joy will continue. With a target price of $107.00, 23.6% below current levels, and on a 400x PE next year, could be tough. Wisetech (WTC.ASX) is another that is trading on big multiple circa 95x and has analysts thinking this is tough with a target price, according to Bloomberg, of $25.96, 14.6% below current levels.
Megaport (MP1.ASX) found itself in the sweet spot in 2020, with its network of cloud-based services and data and blue-chip customers all aligning to provide a solid return to investors. The pull back in last 2 months has given investors the opportunity to buy stock at lower prices and most analysts endorse this opportunity with a target price of $16.83, 24.9% above current levels.
Real estate
Its been a tough year for the real estate sector with the COVID-induced lockdowns forcing people to work from home and avoid shopping centres, office towers, movie theatres, pubs, restaurants etc. With businesses closed, and rents due, the problem became political, with rent reprieves being mandated. The fall out for businesses has probably not fully flowed through, as the market does not expect a recovery to pre-COVID levels during 2021. General Property Trust (GPT.ASX), Scentre Group (SCG.ASX) and Dexus (DXS.ASX) are still trading well down from February 's highs and analysts are not expecting an upside in any of these stocks for 2021.
Goodman Group (GMG.ASX) is the exception, recovering quickly, and has pushed on to new highs. However, analysts think its run has come to an end with next year's target price of $18.67 – only 0.6% above current levels.
In my next note, I will finish the note by looking at the Industrials, Healthcare and Communication sectors.
The views expressed in this article are the views of the stated author as at the date published and are subject to change based on markets and other conditions. Past performance is not a reliable indicator of future performance. Mason Stevens is only providing general advice in providing this information. You should consider this information, along with all your other investments and strategies when assessing the appropriateness of the information to your individual circumstances. Mason Stevens and its associates and their respective directors and other staff each declare that they may hold interests in securities and/or earn fees or other benefits from transactions arising as a result of information contained in this article.