Tencent has delivered a very robust 3rd quarter report last week, with revenue up 29% year on year (YoY), to RMB125.4bln while its adjusted net profit rose 32% YoY to RMB32.3bln.
Tencent, along with Alibaba, are the two largest technology companies in China and last week's result clearly reinforces this fact. Unlike many other companies around the world, the impact of COVID-19 proved to be a huge boost to their business model.
The company's historic and ongoing investment in technology is massive, and has enabled this result to be insulated from much of the negative impacts of COVID-19
As in previous results, Tencent's mobile games division dominated, with revenues increasing by 61% YoY following a COVID-19 era boom in online gaming demand.
This excellent result comes after the Chinese government proposed new regulations aimed at reducing the power of its biggest internet companies on Tuesday, resulting in most listed tech companies trading sharply lower. The State Administration for Market Regulation's (SAMR) 22-page draft document attempts, for the first time, to define anti-competitive behaviour for the tech sector. The SAMR is seeking feedback and review of these draft antitrust guidelines from the public, by the end of the month.
The proposed new rules attempt to halt companies teaming up to squeeze out smaller rivals and from selling at a loss to eliminate competitors. The proposed rules will also limit platforms, forcing businesses into exclusive arrangements with one provider, thereby limiting competition.
JD.com and Alibaba dominate the rapidly expanding ecommerce market in China with roughly 75% market share between the two goliaths. Alibaba alone boasts 881mln mobile active users, which is over half of the Chinese population, while JD.com has 417mln active customers.
Beijing's intent to curb monopolistic practises by the titans of Chinese ecommerce was not lost on Tencent's President, Martin Lau.
Following on from Beijing's direction to delay the what would have been the world's largest IPO to date, with the spinoff of Alibaba's financial hub Ant Group, Martin Lau cautiously reassured investors that the Tencent supports the government's goals of fair competition and that Tencent will comply with the regulators policies.
Lau said the company will need time to reach out to antitrust watchdogs to determine their goals, but was also comfortable that Tencent's relatively conservative approach to expanding beyond its core gaming and messaging services will be viewed in a positive light by the regulator.
Lau went on to say that regulation is not new, and it is also not unique to China.
As technology companies continue to grow and impact a greater proportion of the economy, more regulations do reflect the new realities. This is happening right around the globe, especially in Europe and in the US.
The European Union has announced antitrust charges against Amazon for abusing its market power in Germany and France, while in the US, authorities are taking action against Google's dominance as an internet search engine, with the US Department of Justice describing the tech giant as a "monopoly gatekeeper of the internet".
Martin Lau stressed that the government continues to support internet and innovation.
It is important to understand that the term "antitrust" in the context drafted in the 22-page document is different from what western regulators would expect companies to mean. The response from President Martin Lau clearly indicates that this regulation is not only healthy, it is transparent too.
The draft language suggests that antitrust rules will tend to focus on more transaction-based platforms rather than entertainment which dominates Tencent's business. The focus of the draft, on online commerce and forced exclusive arrangements with merchants known as "pick one of two", to algorithm-based prices favouring new users, and selling at below cost to weed out rivals, has less of an impact on Tencent than Alibaba.
Tencent's result last week with 3rd quarter games sales rocketing 61% bodes well for that segments' continued growth over the next 12 months with a solid pipeline of new titles underlying this optimism. Looking into the 4th Quarter, Tencent believes smartphone games' momentum will continue to be driven by initial strong performance of League of Legends: Wild Rift, Moonlight Blade Mobile, etc. while a secular recovery of ad sentiment with improving algorithm will drive advertising budgets. The tech rally over the September quarter certainly benefited Tencent given it owns some of the largest businesses such as JD.com, Meituan, electric vehicle manufacturer NIO Inc, and the online real estate platform, KE Holdings.
Looking at all the broker recommendations post the result can only give investors' confidence in Tencent's business model.
JPMorgan – Overweight
Credit Suisse – Outperform
Citi – Buy
UBS – Buy
Bank of America – Buy
The above listed are just some of the offshore banks that have a positive outlook for Tencent post last week's results.
With target prices ranging from HK$577 to HK$734, a business model that is less focused on transaction revenue and more focused on mobile games, with a president who is very conscious of the change in regulatory environment, Tencent looks ideally placed for another year of solid returns.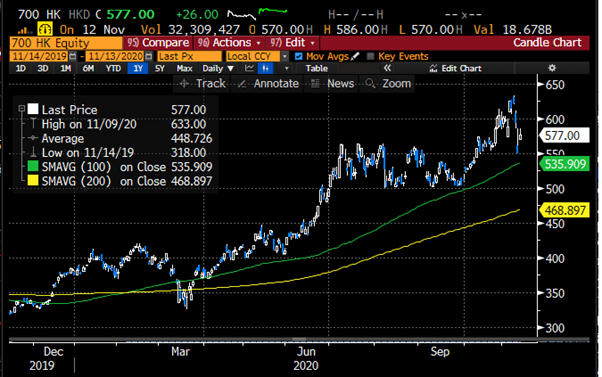 Source Bloomberg
The views expressed in this article are the views of the stated author as at the date published and are subject to change based on markets and other conditions. Past performance is not a reliable indicator of future performance. Mason Stevens is only providing general advice in providing this information. You should consider this information, along with all your other investments and strategies when assessing the appropriateness of the information to your individual circumstances. Mason Stevens and its associates and their respective directors and other staff each declare that they may hold interests in securities and/or earn fees or other benefits from transactions arising as a result of information contained in this article.